This comp uses Varus as your 3 star carry with Pantheon as your main tank. You can look to 3 star Pantheon as well, but it may be difficult if he's contested or if you take too long to 3 star Varus.
When to make
Go for this comp if you can build strong Varus items and find him easily in the early game.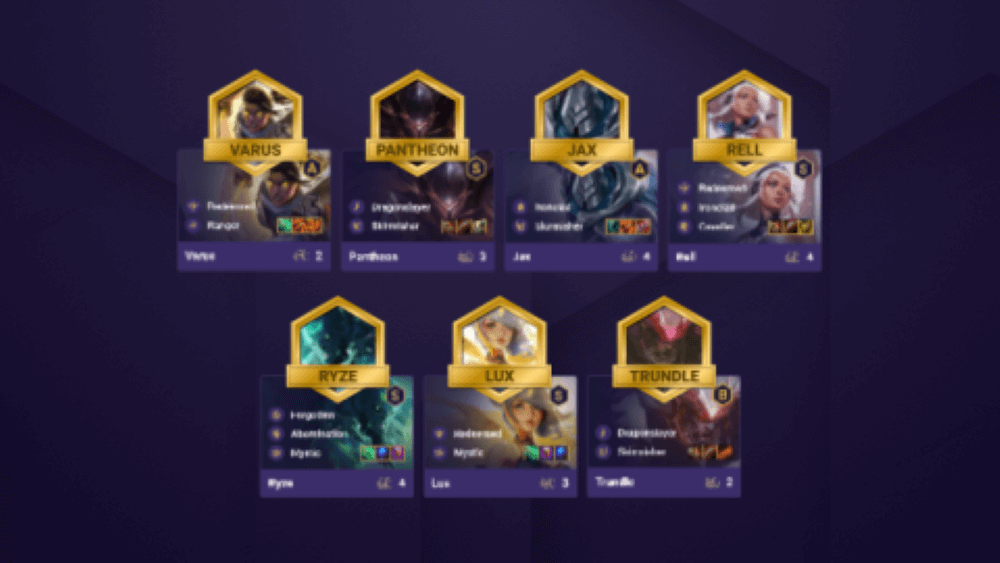 Level up to 4 early if you want to start a win streak. Level up to 5 to try and continue the streak.

If you're weak in the early game, you can opt to save gold and lose streak instead.
At Round 2, level up to 6 regardless of your start. Put together the strongest team you can.

Once you are at 50 gold, start slow rolling for Varus 3 and Pantheon as well if you can afford it.
After hitting Varus 3, level up to 7 to complete your team comp. You can then look to go for level 8 or to roll more for Pantheon 3.
Early Game
Ideally you will build around Varus early to save some gold and also find some copies early on.
Mid Game
By the mid game, you will have most of your team laid out except for the 4-cost units. You'll be rerolling for Varus 3, so you should be able to find most of the team. You'll likely hit one copy of a 4-cost unit to use as your 6th unit.
If you're able to reach level 8 with this comp, use that unit slot to fill in whatever your team may need. This can be something like Ironclad 3, Mystic 3, or just a strong frontline unit.