This comp is a new take on Aphelios that doesn't utilize the Nightbringer trait. Instead the comp utilizes 4 Rangers for more attack speed along with some general purpose frontline like Taric and Volibear
When to make
Go for this comp if you can make strong Aphelios items and can find him at level 7.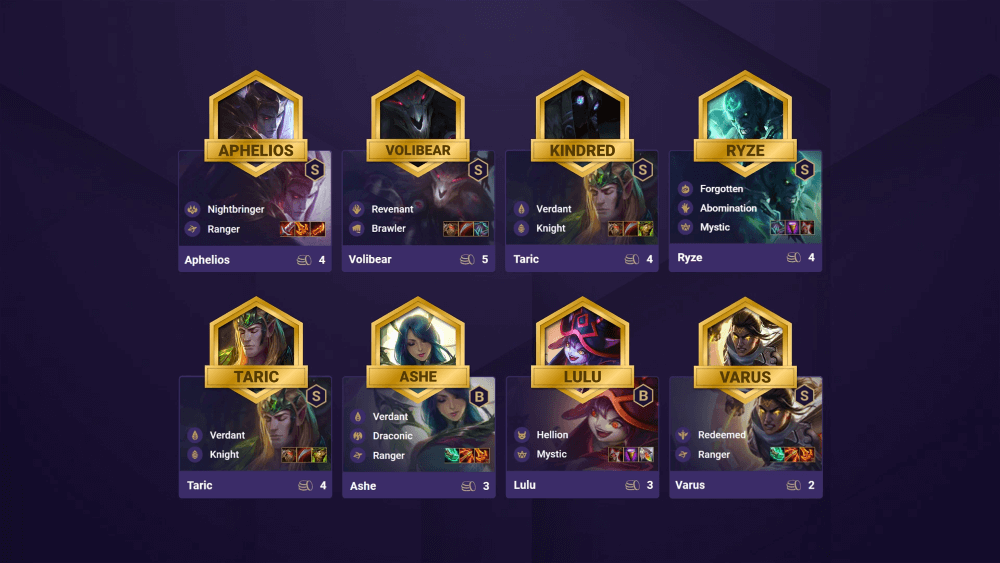 Level up to 4 early if you want to start a win streak. Level up to 5 to try and continue the streak.

If you're weak in the early game, you can opt to save gold and lose streak instead.
At Round 2, level up to 6 regardless of your start. Put together the strongest team you can.
At Round 1, level up to 7. Roll down to stabilize your comp if you are weak. Afterward, save up to hit level 8 and complete your comp.
Early Game
You can use Rangers early game to hold items for Aphelios, but you can do the same with just about any backline auto attacker. Just make sure to balance your frontline and backline.
Mid Game
You will be able to add in some 3 cost units like Ashe or Lulu, but make sure to not neglect your frontline either. Try to use some stronger frontline units as well to balance your team.
When repositioning, make sure to keep your units touching at least 1 Verdant unit to gain the CC immunity. Taric and Ashe won't gain the buff since they are not adjacent to each other, but they are less of a priority than your other units.