This comp uses Karma as the main damage carry and the Dawnbringer trait to make a board that is very tanky. You can also build items for Riven as an attack damage carry or a mid game carry.
When to make
Go for this comp when you have good Karma items and a good start with Dawnbringers.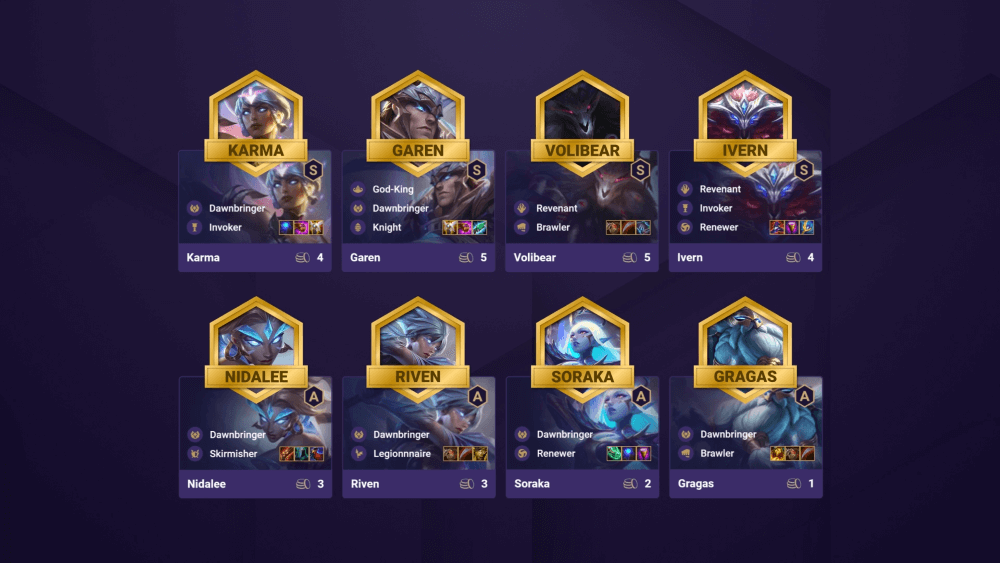 Level up to 4 early if you want to start a win streak. Level up to 5 to try and continue the streak.

If you're weak in the early game, you can opt to save gold and lose streak instead.
At Round 2, level up to 6 regardless of your start. Put together the strongest team you can.
At Round 1, level up to 7. Roll down to stabilize your comp if you are weak. Afterward, save up to hit level 8 and complete your comp.
Early Game
Brawlers make for an easy transition, especially Gragas. You can pair him with Soraka and Lissandra to hold items for Karma, or you can use something like Kha'Zix instead.
Mid Game
In the mid game, look to power up your team with things like more Brawlers or more Dawnbringer units. You can also use other units that synergize with the units you find in your game.
If you happen to find a lot of attack damage items or Riven, you can prioritize building your team around Riven instead of Karma. Karma will be more consistent as Riven can be difficult to 3 star. You can also simply use Riven as your mid game carry and then prioritize Karma items in the late game.