This comp utilizes a Warlord Chosen unit to hit 6 Warlord. The comp centers around Katarina as the main carry of the comp with Nidalee help deal early game damage.
When to make
Make if you find an early Chosen Warlord or find good Katarina items.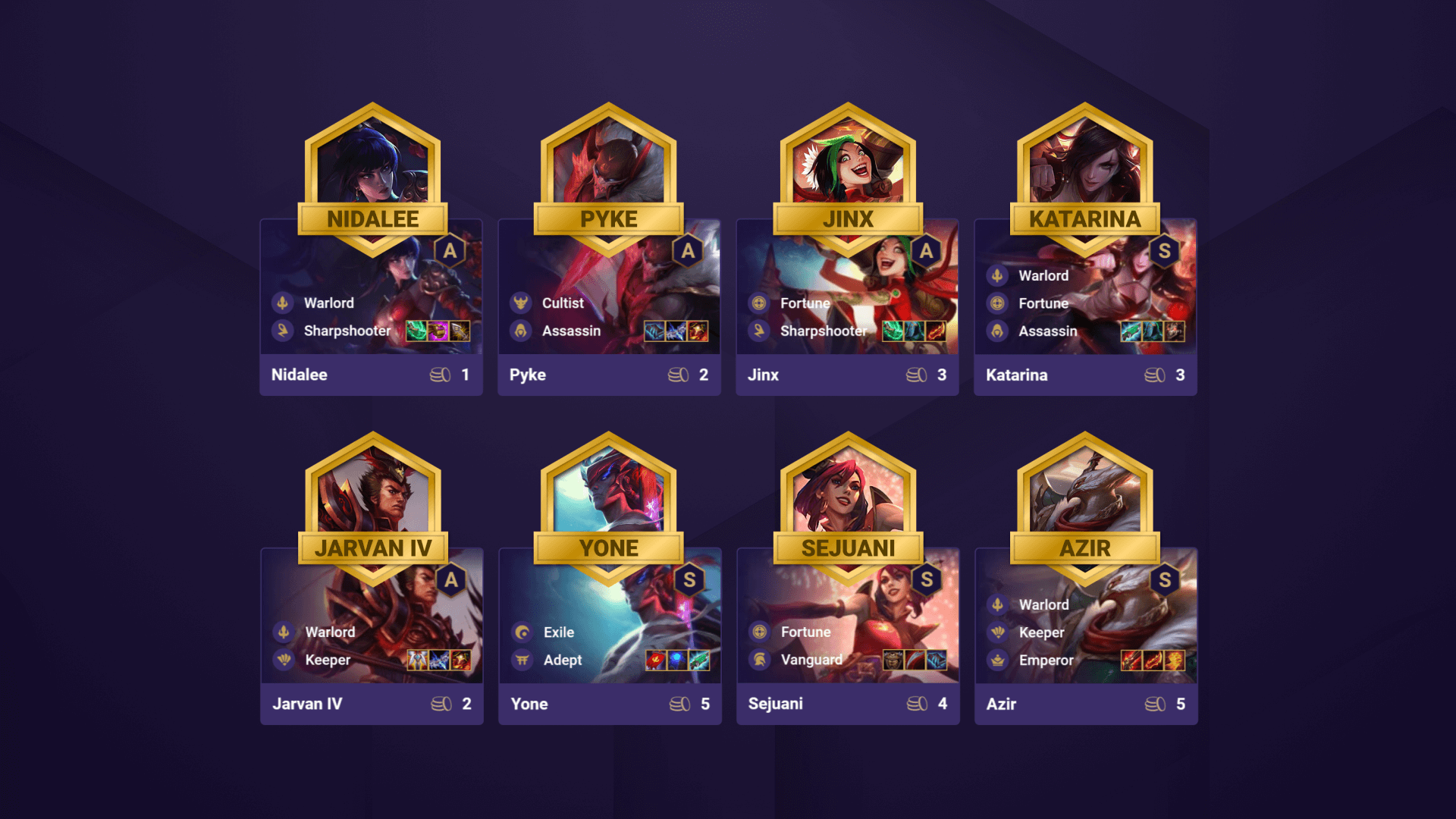 During the early game, level up to 4 and 5 if you are strong and want to continue a win streak.

If you are weak or low roll, don't level up early and save gold instead. If you don't think you can beat Krugs, level up to 5 to ensure you get your items.
At Round 2, level up to 6 and roll down to stabilize. Find two star copies of your main Warlord units and then continue to save up to hit level 7.
At Round 1 level up to 7 to fit in another unit like Aatrox or Sejuani.

After raptors, level up to 8 to add in another unit to complete your 8 unit team, and continue rolling to look for Katarina 3.
Early Game
The earlier you can get 3 Warlords the better. This way, you can stack up additional stats and become stronger to win streak.
Mid Game
At level 6, if you have a Chosen Warlord, you can fit in 6 Warlords with Pyke. This would be ideal, but if you don't have a Chosen Warlord, you should roll to find one ideally.
Before you find Azir, you can run any Warlord unit like Garen or Vi. In the late game, you can look to run Sett and Vi over Nidalee and Jinx.

At level 7, the best unit to add would be Sejuani, but you can use a Sharpshooter like Teemo or Jinx to pair with Nidalee before you find Sejuani.

Katarina 3 star is the main win condition of the team, so don't try to hit level 9 and instead look to slow roll at level 8 for Katarina 3. Another win condition is to go for 9 Warlord if you have a Warlord Spat. This item can go on a strong unit like Riven or Sett.