This comp uses a Chosen Dragonsoul in order to hit 6 Dragonsoul. Mages are the main source of damage with Aurelion Sol and a possible Mage Swain.
When to make
Go for this comp if you have a Chosen Dragonsoul and decent Aurelion Sol items.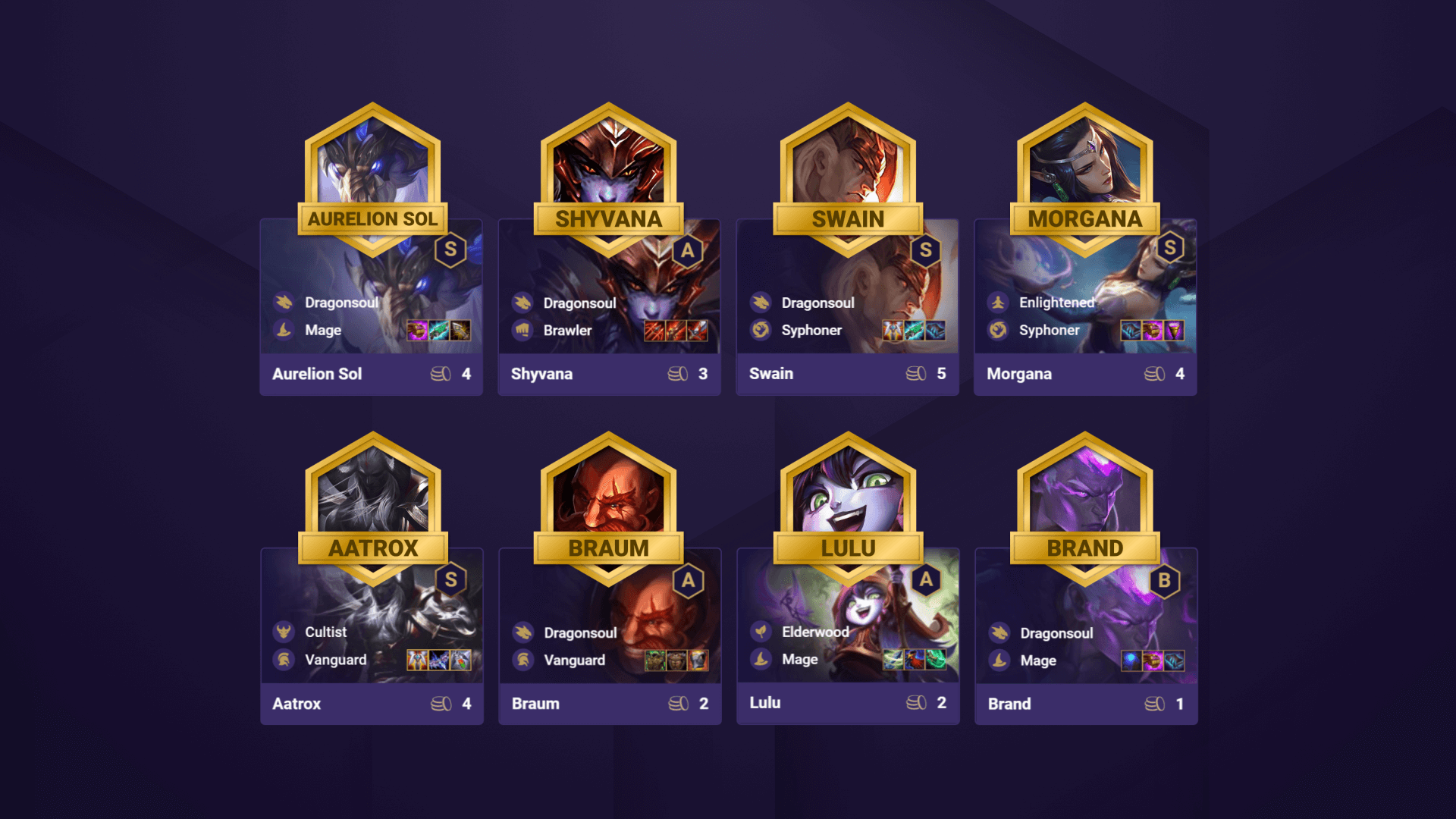 Level up to 4 early if you want to start a win streak. Level up to 5 to try and continue the streak.

If you're weak in the early game, you can opt to save gold and lose streak instead.
At Round 2, level up to 6 regardless of your start. Put together the strongest team you can.
At Round 1, level up to 7. Roll down to stabilize your comp if you are weak. Afterward, save up to hit level 8 and complete your comp.
Early Game
You can start out the game with a few Dragonsoul units and Vanguards.
Mid Game
Continue adding in transition units for synergies like Vanguard or Mage.
Swain has a Mage's Cap as this allows him to be extremely tanky, but it is not a requirement. The comp will be fine at 3 Mages. You can also use Mage's Cap on Shyvana for a secondary damage carry, but Swain is very strong with Mage's Cap that you may want to wait to put it on him.

You can replace Morgana with Sett if you don't have Swain 2. Otherwise, having Syphoner for both Swain and Morgana is very nice.
Aurelion Sol
Jeweled Gauntlet
20%
20
Hextech Gunblade
20
15
Guardian Angel
15
25
Shyvana
Runaan's Hurricane
+15%
25
Quicksilver
25
20%
Hand of Justice
20%
15
Swain
Mage's Cap
15
Bramble Vest
25
25