Synergies






This is a full AP comp by focusing on the Spellslinger trait. Taliyah is your main carry while Annie will be your core frontliner. You'll surround your team around Janna as she's a Forecaster by nature to not lose out on any extra buffs from her.





Go for this comp if you have a good Spellslinger start, find an early level 7 copy of Janna or just have lots of AP item components from the get go (tear/rod).
This comp uses the standard leveling strategy that revolves around a 4-cost carry.

Taliyah

Annie
Janna

Ekko

Alistar

LeBlanc

Sona

Lux
3
2
1
1
1
1
1

Annie

Yuumi

Rell

Lux



Play 3 Star Guardian and use either Lux or Yuumi as your early item holder for Taliyah. Level up to 4 at stage 2-1.
3
3
2
2
2
1
1

Annie

Yuumi

Rell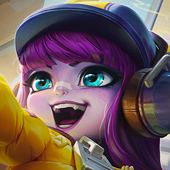 Lulu

Lux

Poppy



At level 6 you want to activate Gadgeteen as well as Defender by adding both Lulu and Poppy. The extra items from Gadgeteen will get you on a win streak easily. Level up to 6 at stage 3-2.
Since we're playing Janna, you always want to make sure you surround your team around her!