This comp revolves around the Hellion trait which summons additional units from a Portal on the map. Hellions gain lots of attack speed, which is why Ziggs has Statikk Shiv, allowing him to deal splash damage and reduce the magic resistance of enemies
When to make
Go for this comp if you can build an item for Ziggs early and find lots of Hellion units.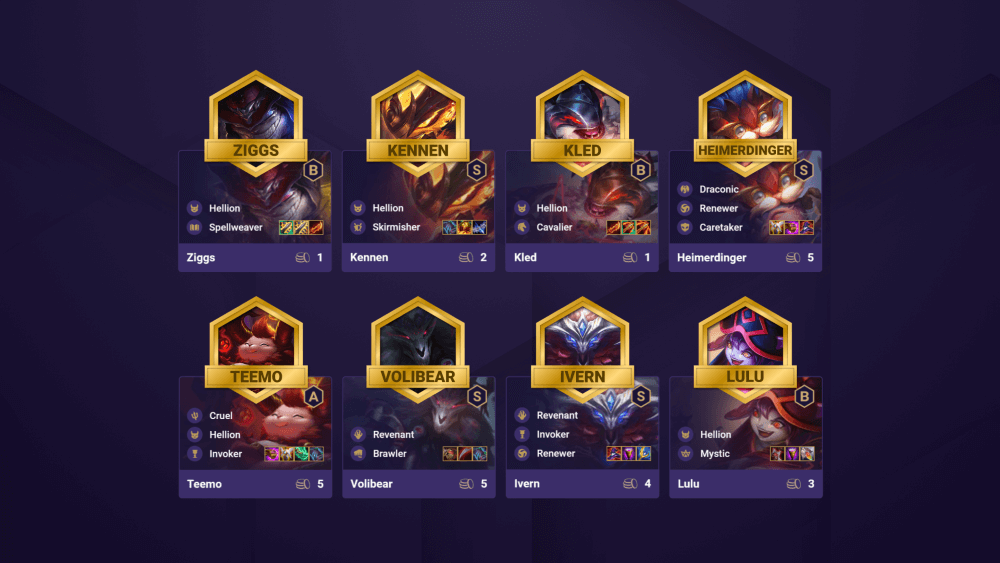 In the early game, don't level in order to save up gold.
Begin rolling for your 3 star units. This would be units like Poppy, Kled, Ziggs, and even Kennen if you can afford it.
Once you hit your 3 star units, start slow leveling to catch up and put in more units. If you are win streaking, you can use most of your gold to hit level 7 to ideally build up your gold again to hit level 8 later.
Early Game
In the beginning, you mainly want to just have all the Hellion units. You can run a Knight or a Cavalier to pair with Poppy/Kled, but for the most part just use the Hellions you have.
Mid Game
By this level, try to have 5 Hellions along with a supporting unit like a Nautilus or Rell. You can also use a Spellweaver like Viktor or Zyra instead of Nautilus to pair with Ziggs.
You can also run basic magic damage items on Ziggs instead of the Statikk Shiv / Stiletto combo. This would be items like Jeweled Gauntlet, Blue Buff, Rabadon's, etc.