This comp uses the 6 Legionnaire trait to buff up everyone's attack speed. Mordekaiser is the main carry and will slap enemies off the board. If you can't build Legionnaire Emblem, you won't be able to fit in 4 Dragonslayer unless you hit level 9 or make a Dragonslayer Emblem
When to make
You should look to go for this comp if you can build strong items for Mordekaiser like Hextech Gunblade.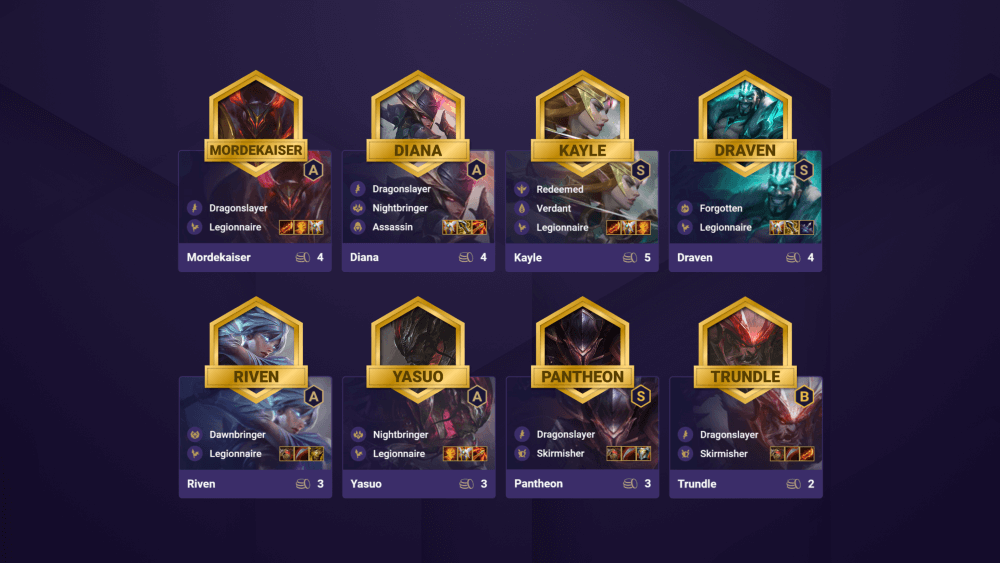 Level up to 4 early if you want to start a win streak. Level up to 5 to try and continue the streak.

If you're weak in the early game, you can opt to save gold and lose streak instead.
At Round 2, level up to 6 regardless of your start. Put together the strongest team you can.
At Round 1, level up to 7. Roll down to stabilize your comp if you are weak. Afterward, save up to hit level 8 and complete your comp.
Early Game
Use things like Legionnaires early for an easy transition. Having Redeemed in will also balance your frontline with your damage.
Mid Game
In the mid game, you can add in more Legionnaires to hit 4 Legionnaire or add units like Trundle and Pantheon for some more frontline.
Legionnaire Emblem allows for a very large power spike. If you can't run 4 Dragonslayer, you can look to run a unit like Garen instead of Trundle and another Legionnaire like Kalista over Pantheon.