This comp uses the Forgotten trait to buff up all of your Forgotten units to provide a strong baseline. The team focuses on Vayne and Warwick as the main carries and uses them to carry through the early and mid game.
When to make
Go for this comp if you have good Vayne items and have a good Forgotten start.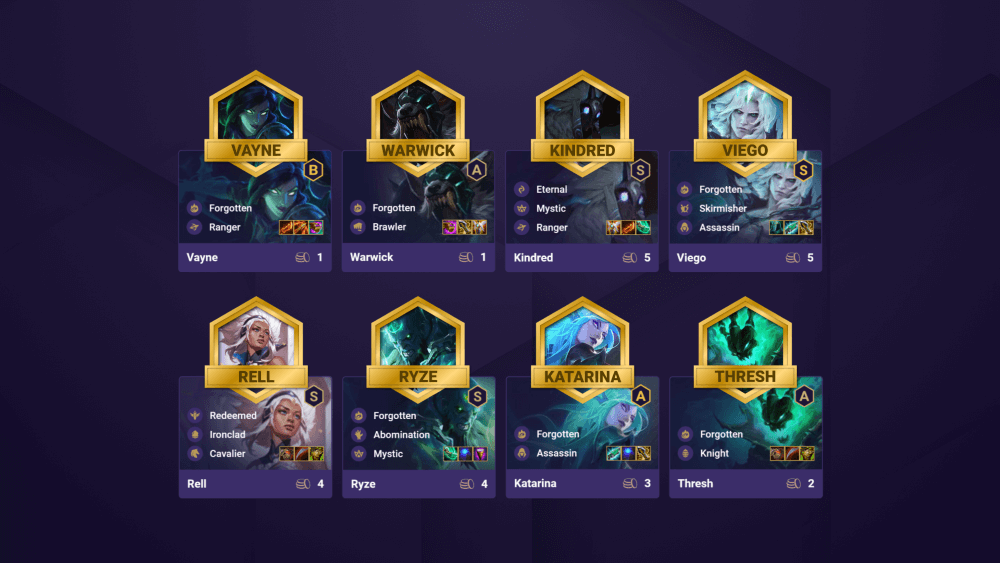 Level up to 4 early if you want to start a win streak. Level up to 5 to try and continue the streak.

If you're weak in the early game, you can opt to save gold and lose streak instead.
At Round 2, level up to 6 regardless of your start. Put together the strongest team you can.
At Round 1, level up to 7. Roll down to stabilize your comp if you are weak. Afterward, save up to hit level 8 and complete your comp.
Early Game
Simply pick up your Forgotten units along with a Ranger to buff up Vayne's attack speed.
Mid Game
If you can reach 6 Forgotten at level 6, go for that. If you can't find all of them, use other supporting units that provide good synergies.
Don't focus only on Vayne items. If you can build other Shadow items on other Forgotten units, you can get a nice stat bonus for your Forgotten units.