This comp is a Draven comp that uses the Forgotten trait to buff up most of the team comp. Ryze is a strong source of utility with the right items, and this comp can easily snowball with early Forgotten units.
When to make
Go for this comp if you have good Draven items and have a good transition with Forgotten units.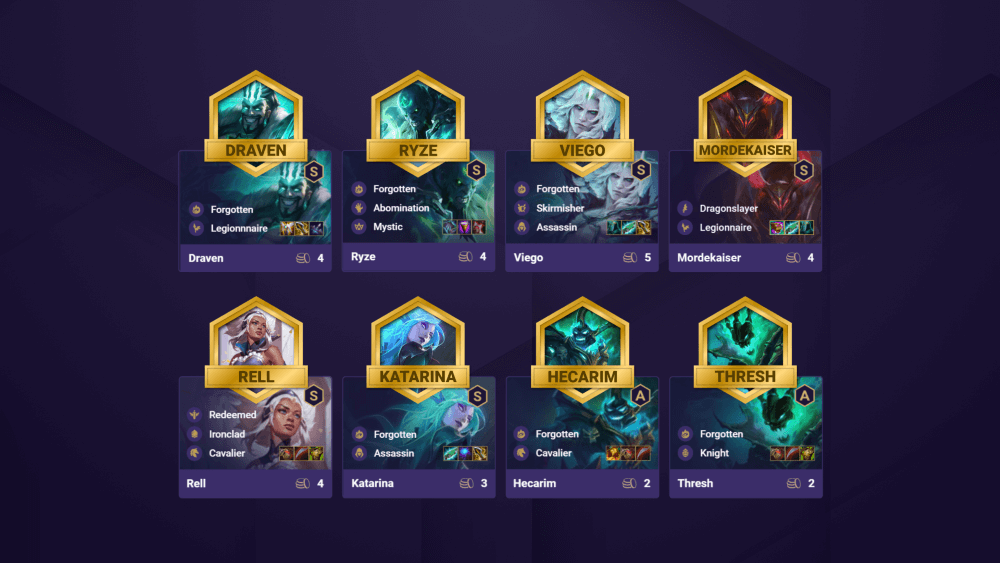 Level up to 4 early if you want to start a win streak. Level up to 5 to try and continue the streak.

If you're weak in the early game, you can opt to save gold and lose streak instead.
At Round 2, level up to 6 regardless of your start. Put together the strongest team you can.
At Round 1, level up to 7. Roll down to stabilize your comp if you are weak. Afterward, save up to hit level 8 and complete your comp.
Early Game
Starting this comp with Forgotten units will provide the easiest transition.
Mid Game
In the mid game, you can simply add more Forgotten units. Also try to get a Legionnaire to pair with Draven once you find him.
Kindred is a very strong addition to this team if you can add her, but the comp is quite tight. If you are able to hit level 9, you can add in Kindred for Mystic. You can also add her in and replace a Forgotten unit if you make a Forgotten Emblem.