This comp uses the 6 Knight trait to create a very tanky frontline. This buys time for Kayle to go through her ascensions, turning her into a very powerful late game carry. You can also swap out Knights for more Mystic units if you are facing against a lot of magic damage.
When to make
Go for this comp if you have good Kayle items and have a good start with Knights. Also make sure you have a strong economy as you will need it to consistently find Kayle.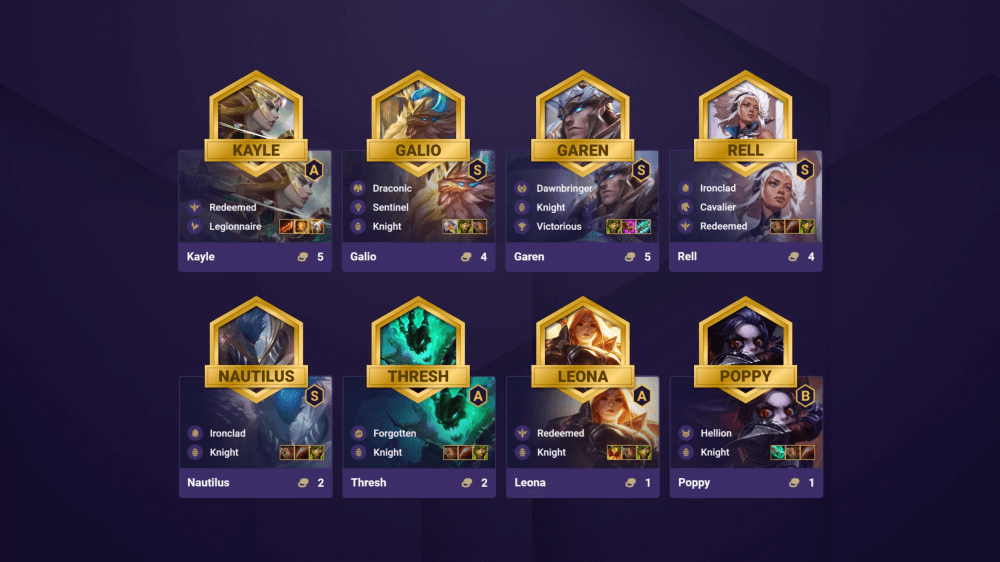 Level up to 4 early if you want to start a win streak. Level up to 5 to try and continue the streak.

If you're weak in the early game, you can opt to save gold and lose streak instead.
At Round 2, level up to 6 regardless of your start. Put together the strongest team you can.
At Round 1, level up to 7. Roll down to stabilize your comp if you are weak. If you can hold off, try to save up for level 8 before rolling to leverage your economy.

If you can afford to, level up to 8 at Round 5 after the carousel. This will help you find higher cost units. Hold off to roll until 5-1 if you can, but if you're low on health, you can roll down and pray you hit.
Early Game
You can start out with 4 Knights if you want, but try to build some backline damage to hold Kayle items. 4 Knights also falls off very quickly.
Mid Game
Once in the mid game, continue using your Knights, but add in more damage units to hold items for Kayle.
Before finding Kayle, you should look for a carry to hold items for her like Jax or Riven. Most attack damage carries will work, but these are two strong examples.