This comp centers around the Forgotten units and uses Draven and Miss Fortune as dual backline carries. Draven will hold just about any attack damage item while Miss Fortune can hold magic damage items. Hecarim is also a great unit to put your defensive items on.
When to make
Go for this comp if you have a good start with Forgotten units and good items for Draven.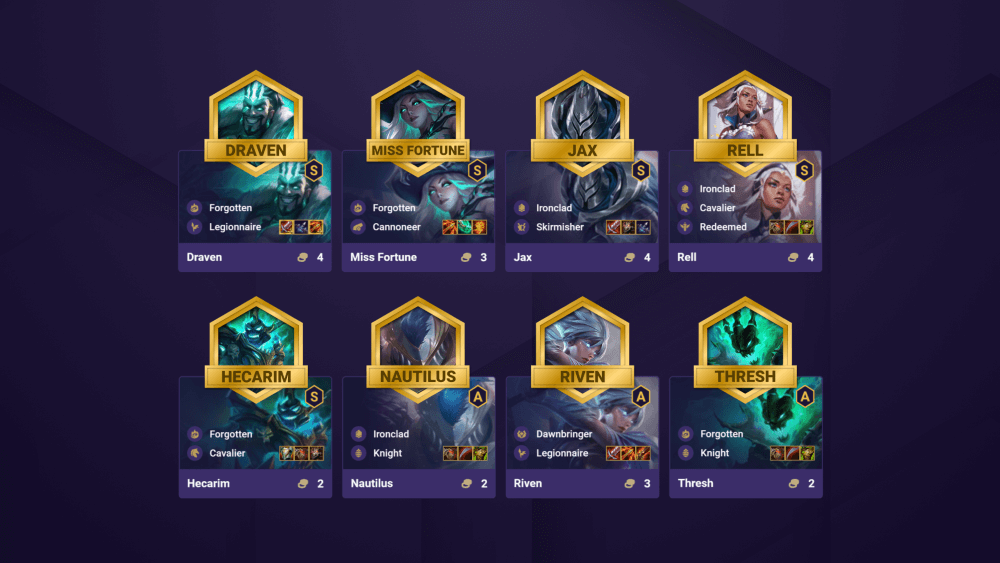 Level up to 4 early if you want to start a win streak. Level up to 5 to try and continue the streak.

If you're weak in the early game, you can opt to save gold and lose streak instead.
At Round 2, level up to 6 regardless of your start. Put together the strongest team you can.
At Round 1, level up to 7. Roll down to stabilize your comp if you are weak. Afterward, save up to hit level 8 and complete your comp.
Early Game
Try to use Forgotten units early and balance your frontline with your backline.
Mid Game
At this point, your comp will focus mostly around Miss Fortune until you are able to find Draven.
Viego is a great addition to this comp if you are able to 2 star him. You can also replace Riven for a late game Legionnaire like Kayle as well. Viego can likely replace Miss Fortune, and Kayle can then go into the corner to act as bait for Draven instead of Miss Fortune.
Draven
Blessed Bloodthirster
30
20
Last Whisper
10
15%
Runaan's Tempest
20
40