This comp utilizes a Chosen Mystic or Chosen Vanguard unit in order to hit 4 Vanguard 4 Mystic. This comp looks to stall long enough for Ahri to one shot enemies with her ability. You can also choose to drop 4 Mystic for 5 cost units depending on your lobby.
When to make
Go for this comp if you have good Ahri items and find a Chosen Vanguard or a Chosen Mystic.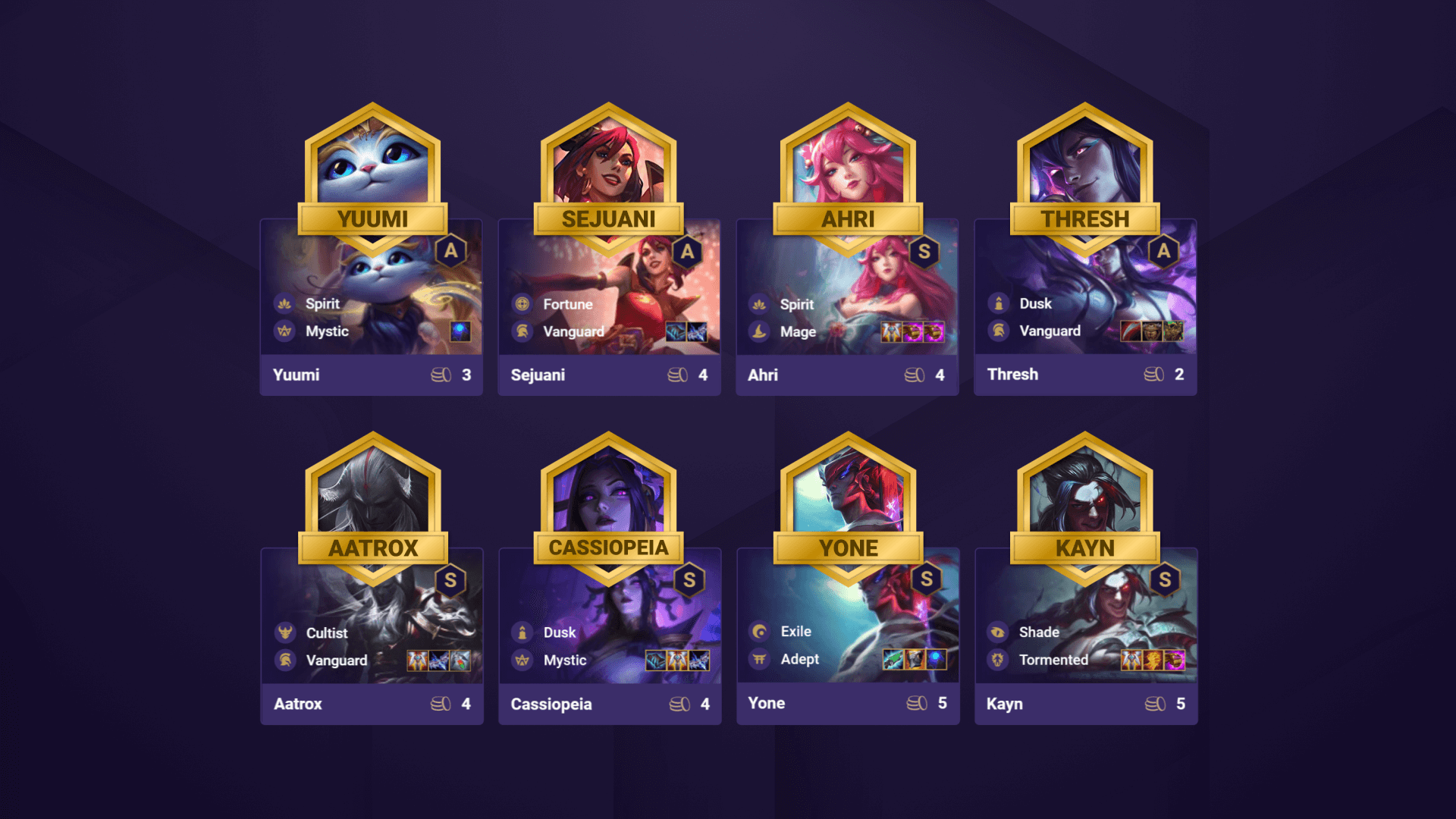 Level up to 4 early if you want to start a win streak. Level up to 5 to try and continue the streak.

If you're weak in the early game, you can opt to save gold and lose streak instead. Level up to 5 at Krugs if you don't think you can beat them.
At Round 2, level up to 6 regardless of your start. Put together the strongest team you can.
At Round 1, level up to 7. Roll down to stabilize your comp if you are weak. Afterward, save up to hit level 8 and complete your comp.
Early Game
In the early game, you can run almost anything, but Sharpshooters and Vanguards provide a solid base to go for. Nidalee can be your early item holder for Ahri items.
Mid Game
Continue playing the strongest board you can make, while setting up to transition into Ahri when you find her. You can continue running the sharpshooters and add in some Mystic and Spirit units at this point.
Chosen Vanguard is preffered for this comp as if you have a Chosen Mystic, you will have to drop either Shen, Zilean, or Cassiopeia for a unit like Hecarim who will not provide much in the late game.

Sunfire Cape is a strong item to build early in order to stay strong or to try and win streak. If it's late game, you should look to build Morello over Sunfire as it provides more with enemies having more units.