This comp revolves around Akali as the main carry in a 6 Assassin and 4 Ninja comp. Akali is ideally 3 starred, as she is the main carry of the team comp.
When to make
Go for this comp if you find a Chosen Akali. You can make this comp work with any Chosen Assassin, but having a Chosen Akali gives you 3 copies toward a 3 star Akali.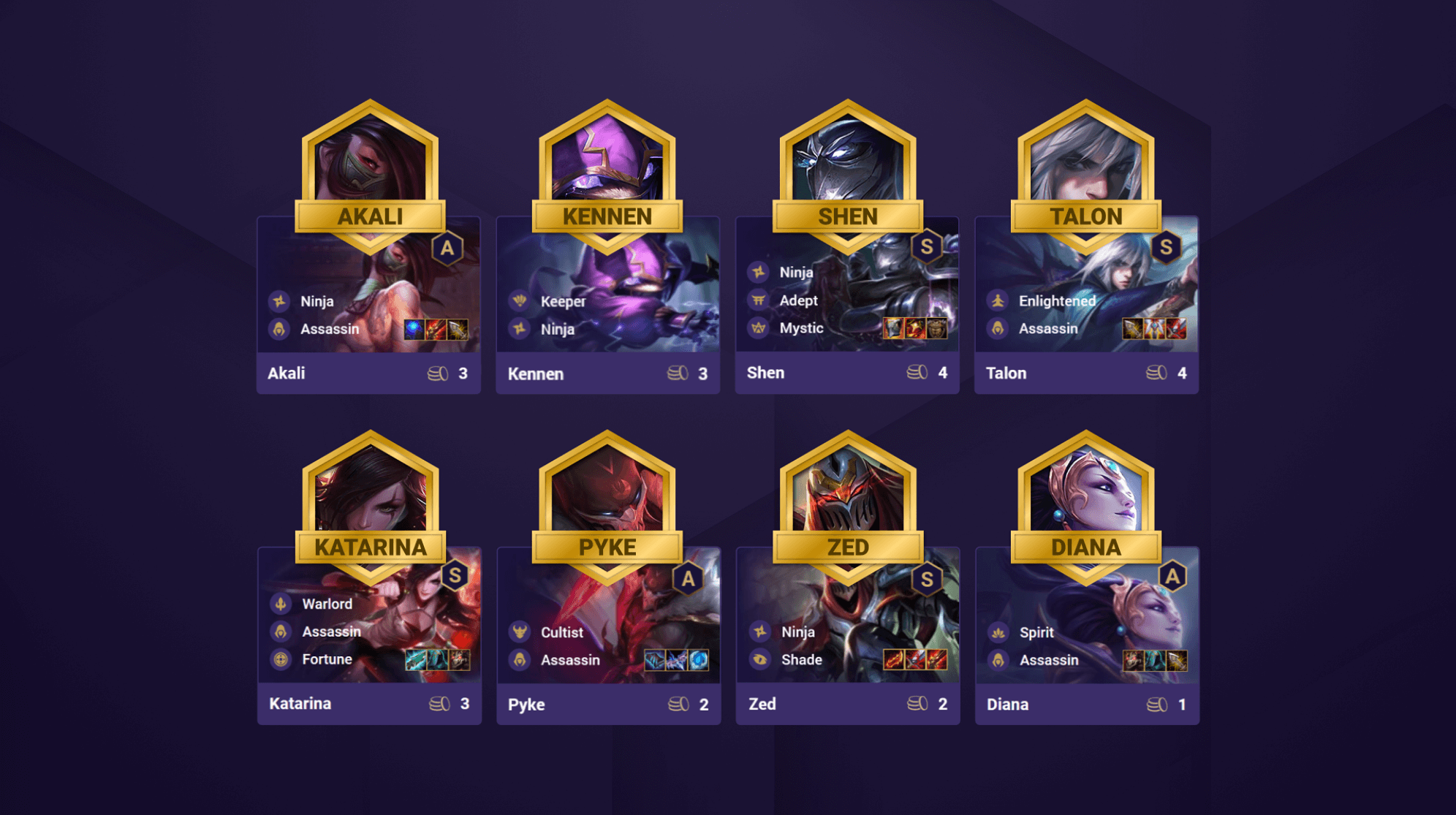 Level up to 4 early if you want to start a win streak. Level up to 5 to try and continue the streak.

If you're weak in the early game, you can opt to save gold and lose streak instead.
At Round 2, level up to 6 regardless of your start. Put together the strongest team you can.
At Round 1, level up to 7. Roll down to stabilize your comp if you are weak.

Once you are at 50 gold, you can slow roll for Akali 3. If you are very strong or healthy, you can wait until level 8 to begin slow rolling, but you may fall behind if you do this.
Early Game
Since you ideally want a Chosen Akali, you can play just about anything you want in the early game. Something simple like Cultist Assassin is an example of a solid start.
Mid Game
Ideally you will find a Chosen Akali in the mid game. You can start building around her with more Assassin units. If you find an early Shen, you can also put in 4 Ninjas, but that likely won't happen until level 7.
You really want to find Shen at level 7. This will give you a power spike with 4 Ninjas on the board. If you take too long to find Shen, you will spend too much gold holding onto Ninja units on your bench. Try to find a balance between staying strong while also keeping enough gold to slow roll for Akali 3.