This comp revolves around Xayah and Rakan as the core and builds around it with 6 Elderwood. Aurelion Sol is a solid carry alongside Veigar and Lulu, and Aatrox and Ornn make a solid frontline for the team.
When to make
The team doesn't require a specific Chosen to work, but you will have an easier time reaching 6 Elderwood with an Elderwood Chosen. Even so, you can still look for a strong Chosen at levels 7 or 8 to fit into the team rather than tunneling on an Elderwood Chosen. The main requirement for the team is finding Xayah on a timely basis.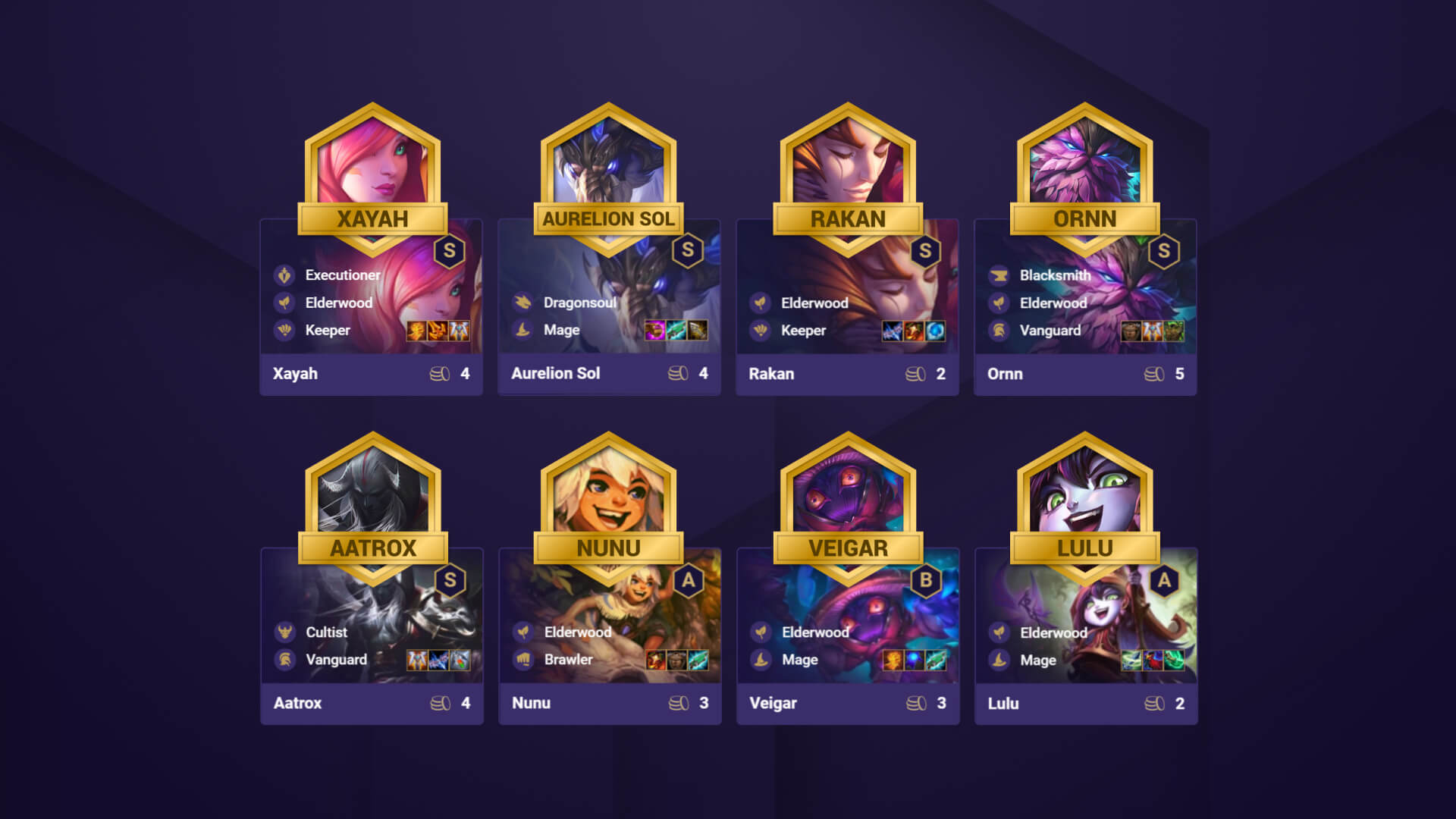 Level up to 4 early if you want to start a win streak. Level up to 5 to try and continue the streak.

If you're weak in the early game, you can opt to save gold and lose streak instead.
At Round 2, level up to 6 regardless of your start. Put together the strongest team you can.
At Round 1, level up to 7. Roll down to stabilize your comp if you are weak. Afterward, save up to hit level 8 and complete your comp.
Early Game
You can use just about anything, but Elderwood start makes it simple to transition. If you don't have a damage carry early on, Sunfire will help a lot with damage.
Mid Game
Continue adding in stronger units like Nunu and Veigar while also filling out any synergies you can to make your team strong.
As briefly mentioned, you have options when it comes to what Chosen unit to add in. You can also change up the comp a bit in order to fit in whatever Chosen you are able to find. Aurelion Sol is a nice carry because he pairs with Veigar and Lulu, but you can always make adjustments if you find a Chosen Kayle or similar.
Aurelion Sol
Hextech Gunblade
20
15
Elderwood Heirloom
25
Jeweled Gauntlet
20%
20
Xayah
Hand of Justice
20%
15
Hand of Justice
20%
15
Deathblade
15
15
Rakan
Sunfire Cape
200
25