Shadowhunter
PvE
∙
PvP
∙
Demonic Impulse Shadowhunter Build Guide for PvE
Build
required skill points:
384
is a (relatively) cheap class, durable due to self-healing, and easy to learn since it doesn't require complex rotations or too much effort.
It is a transformation build. This means that you spend little time in your "human" form to generate enough identity meter, and then transform into a powerful demon to wreak havoc.
It's a high-floor, low-ceiling engraving which means that it is very powerful with little investment but falls off (compared to other classes) the higher you go since there are limited options to increase our damage later on.
Blood Massacre


Death Claw


Destruction


Gore Bleeding


Leaping Blow


Ruining Rush


10
Demonic Slash




10
Thrust Impact



10
Rising Claw




10
Demonic Clone




10
Demon Vision





10
Demon's Grip




10
Howl





10
Decimate




Fallen Ruin
Skill priority






Specialization Breakpoints
The image contains specialization values, runes and the skills necessary to transform. The tripods listed are for . If you wish to use a combination with 3 wealth runes, you can replace the Overwhelm rune on .
The following values assume you have all relevant Encroaching Power and Enh. Encroachment Release tripods at level 5.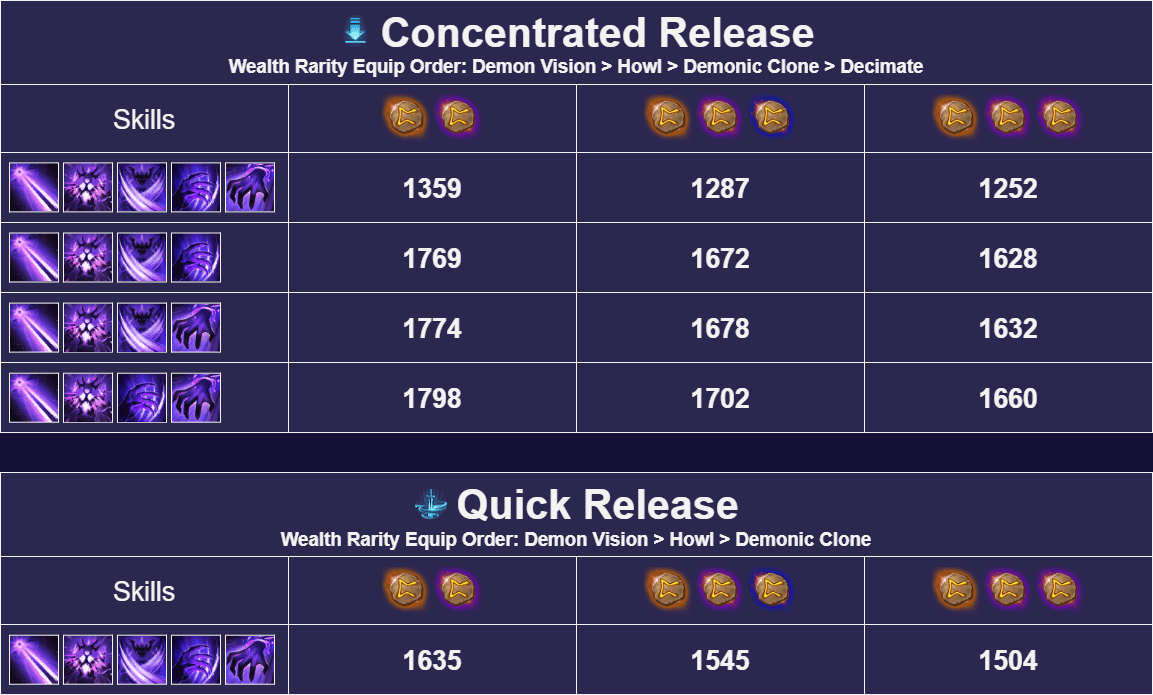 How to play
You use Human Skills to generate enough identity meter and transform as soon as possible:
Once you're in demon form, you want to prioritize high-damage long-cooldown skills such as:
Then fill with the rest of skills that have much shorter cooldowns.
Damage Skill Priority:
and are the hardest hitting skills. Use them on CD.
Spam the rest of the skills, using and to apply your damage synergy, and and for damage.
engravings

3
Demonic Impulse

3
Grudge

3
Adrenaline

3
Keen Blunt Weapon

3
Cursed Doll
These are the recommended engravings for the Spec/Crit build.
In 's penalty, the healing penalty doesn't apply to the self-heal on transformation.
In case you don't like , you can use . It's a safer alternative, but doesn't affect awakening or human skills.
If you are running Spec/Swift build then you should run instead of .
If you have a 9/7 stone, you can choose:
at level 1, never use this engraving at a higher level
or at either level 1 or level 2 (level 2 in case of ancient accessories)
combat stats
In order to achieve this stat distribution:
Neck - Spec + (Crit or Swiftness)
Earrings - Spec
Rings - Spec
Bracelet - Spec + Crit
The necklace stats will determine whether you are running a Spec/Crit or Spec/Swift build.
Attack Gems

Demon Skill
Only 1 Damage gem on Demonize "transformation" is enough because it applies on all transformation skills.
Cooldown Gems

Demon Skill
Only 1 Cooldown gem on Demonize "transformation" is enough because it applies on all transformation skills.
gear tripods


Encroaching Power


Enh. Release Encroachment


Encroaching Power


Encroaching Power
The tripods listed above are vital to get level 5.
Lower priority tripods you can focus on after getting the above tripods:
Gear Set
Your relic set choice depends on which substat you pick.
Shrieking Hallucination provides additional Crit Rate, which means you can opt for Swiftness as a secondary stat to get the most out of Raid Captain and to reduce the cooldown of your demonic skills.
Poem of Salvation lacks crit rate but gives attack speed and has a higher damage potential (although the difference is not that big) but you will need to pick Crit Rate as a secondary stat to compensate.
Bracelet
Look for around 50-70 Spec and around 50-70 Crit on your bracelet to begin with, these will be the easiest bracelets to obtain and will provide a good damage increase for a low cost.
Endgame bracelets will have 2 static and up to 2 rollable bonuses (3 with Ancient Bracelets). These bracelets also typically want bonuses that compliment each other like Hammer and Wedge, which are difficult to roll.
Endgame bracelets are typically extremely expensive to purchase and roll, costing hundreds of thousands of gold on average. Do not roll for these bracelets until you've finished gearing up other parts of your character.
Endgame bracelets should consist of the following affixes:
Spec
Crit
Hammer (Has additional bonuses when rolled together with Wedge)
Wedge (Has additional bonuses when rolled together with Hammer)
Circulate
Fervor
Superiority
Precise