As the name suggests, this comp centers around Talon as the main carry. Assassins and Debonairs are the main trait for this comp, and getting a VIP Talon shouldn't be too hard since you are slow rolling at level 6.
When to make
Go for this comp if you have find Talon early or have good items for Talon.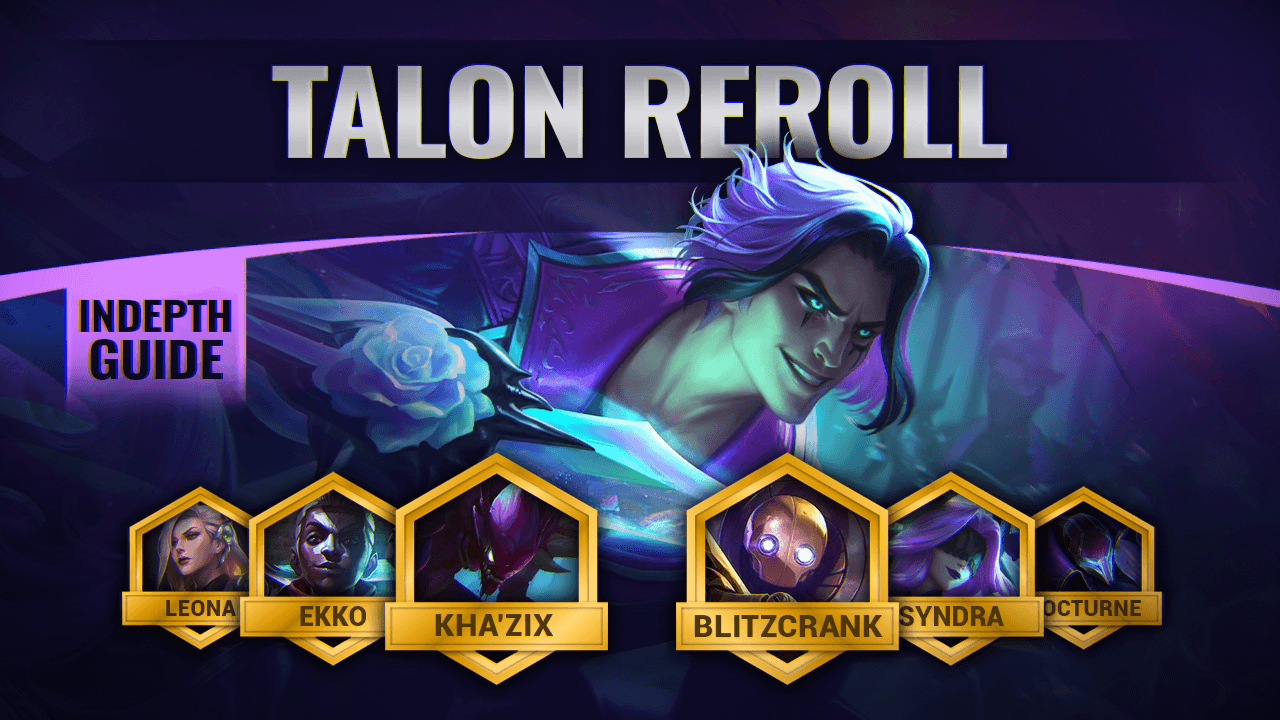 Level up to 4 early if you want to start a win streak. Level up to 5 to try and continue the streak.

If you're weak in the early game, you can opt to save gold and lose streak instead.
At Round 3-2, level up to 6 regardless of your start. Put together the strongest team you can.

Once you hit 50 gold, look to start slow rolling for your 3-star units.
Once you hit your 3 star units, level up to 7 and complete the comp.
Early Game
You don't have to build into Debonair right away as the units you will be using don't synergize too well. You can either build around Talon, or build around something like Yordles to gain gold instead.
Mid Game
At level 6, you definitely will want to have 3 Debonair in to get good chances of finding VIP Talon. Fill in the other units with things like Assassins or frontline.
Since this comp is slow rolling at level 6, you don't have to always lose streak in the early game. You can level up early to win streak instead, but lose streaking is more consistent for building up gold as you can somewhat control losing compared to winning. Only go for win streaks if you are confident in your team.
Recommended Hextech Augments
Very VIP
When an ally dies, they grant the Debonair VIP 30% of their maximum Health for the rest of combat. Gain a Syndra.
Smoke Bomb
The first time Assassins drop below 70% Health, they briefly enter stealth, becoming untargetable and shedding all negative effects. Any excess damage is reduced by 60%. Gain a Talon.
Phalanx III
Your units that start combat in the back 2 rows gain 50 Armor and Magic Resist.
Talon
Rapid Firecannon
10%
10%
Quicksilver
15%
20
Infinity Edge
10
75%