This comp revolves around Twitch as the main carry and builds into Innovator 5 for utility and frontline. Many of the units on the team are low cost, giving you multiple targets to 3 star.
When to make
Go for this comp if you find a lot of Twitchs early.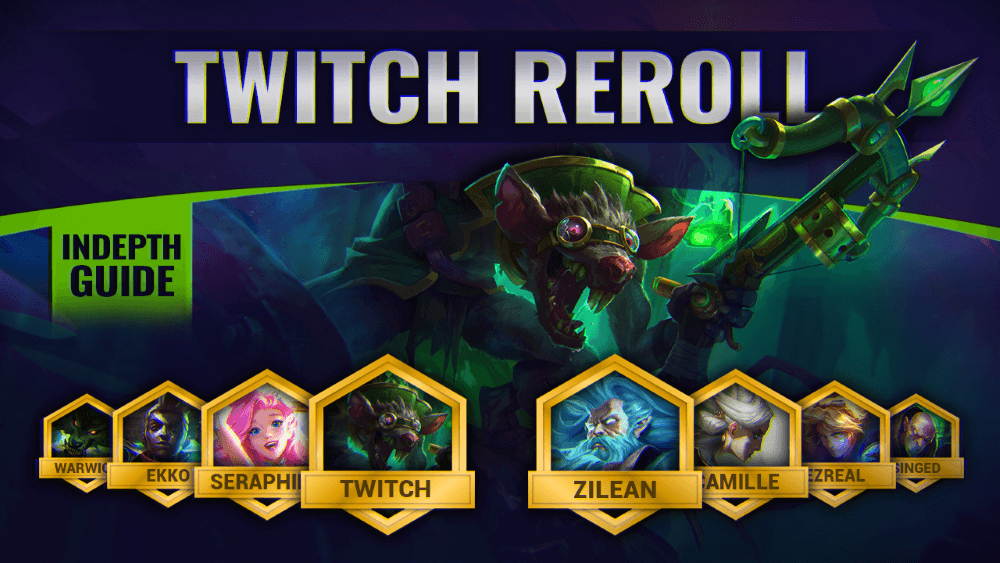 Don't level up early to save up gold.

Once you have 50 gold, begin slow rolling for Twitch and other units like Singed, Camille, Ezreal, Zilean, etc.
You should look to hit level 6 once you have hit at least 3 star Twitch. If you don't have Twitch 3 by 4-1, you need to roll down to find him and hit level 6.
After hitting level 6, you can save up for level 7 (If you are below 50 gold), or you can aggressively hit level 7 once you have enough gold.

Continue saving up for level 8 in order to complete your team comp.
Early Game
In the early game, you can look to either fit in Chemtech 3 or Innovator 3 depending on the units you find.
Mid Game
At level 6, you will have your basic core consisting of Chemtech, Innovator, and Assassin.
Even though Twitch is strong, it's also important that your frontline buys enough time for Twitch. If the frontline dies too quickly, the enemy will retarget onto Twitch and Ekko, which is not ideal.
Recommended Hextech Augments
Chemtech Unity
All units benefit from the Chemtech trait as though they were Chemtech units. This does not affect the number of Chemtech units. Gain a Warwick
Innovator Soul
Your team counts as having 2 additional Innovators.
Study the Blade
All units benefit from the Challenger trait as though they were Challengers. This does not affect the number of Challengers. Gain a Quinn