This comp revolves around Tryndamere as the main slow roll carry of the team. Since he is a 3-cost unit, you will be slow rolling at level 7 for Tryndamere. Zac is the slow roll tank target, and Quinn is the backline slow roll target.
When to make
Go for this comp if you find a good amount of Tryndameres early, and/or if you have good Tryndamere items.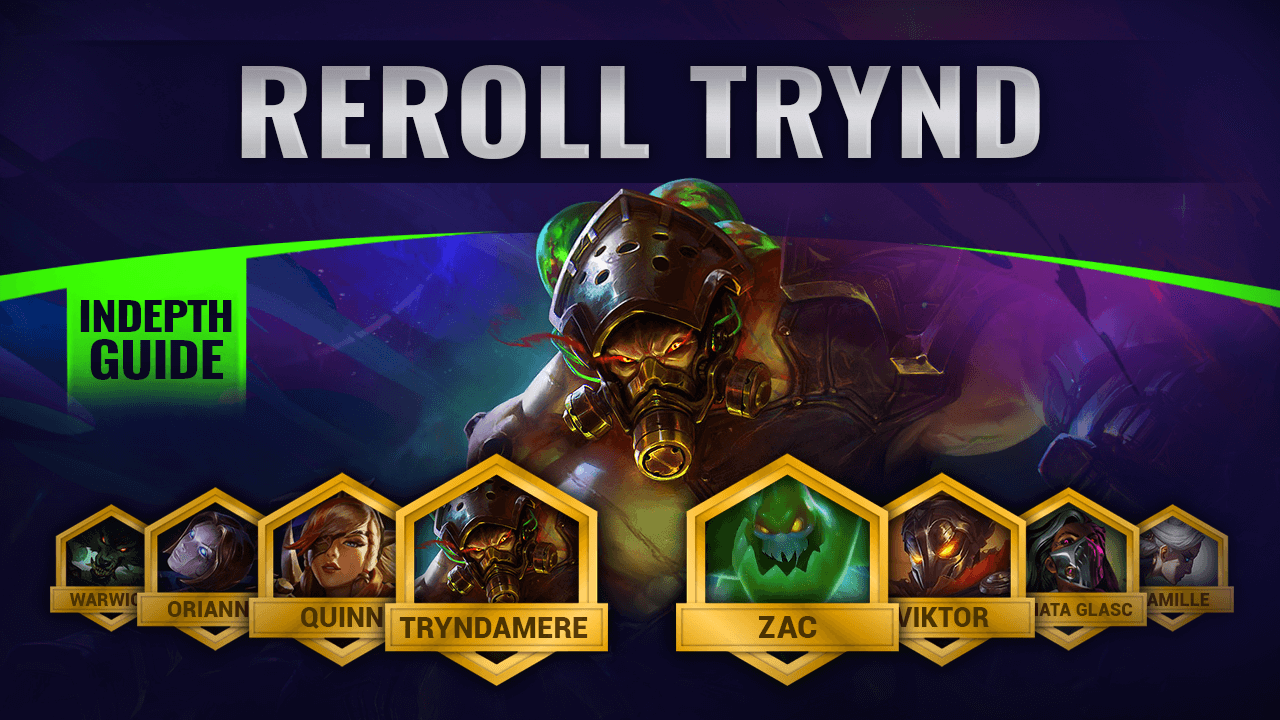 Level up to 4 early if you want to start a win streak. Level up to 5 to try and continue the streak.

If you're weak in the early game, you can opt to save gold and lose streak instead.
At Round 3-2, level up to 6 regardless of your start. Put together the strongest team you can.
At Round 1, level up to 7. Roll down to stabilize your comp if you are weak.

After hitting level 7, begin slow rolling for Tryndamere 3. Level up to 8 after you hit Tryndamere 3. If you are strong and have lots of gold, you can wait until level 8 before slow rolling, but this is very risky.
Early Game
Simple enough, build around Challengers and Chemtech units early on.
Mid Game
You should be able to find Tryndamere at level 6, so your comp should be almost complete at level 6, minus the 4-cost units that might take longer to find.
When building items for Tryndamere, you want to build things that scale multiplicatively with Attack Speed. Since Tryndamere already has Challenger and Chemtech, you want to build items that scale his damage through ways other than Attack Speed. Infinity Edge and Last Whisper are some examples. Even still, items like Quicksilver and Bloodthirster are necessary for him as a melee carry, so don't just build all damage.
Recommended Hextech Augments
En Garde
The first time an enemy is attacked by a Challenger, they are Disarmed for 3 seconds.
Instant Injection
Chemtechs now additionally trigger their bonuses at the start of combat.
Knife's Edge III
Your units that start combat in the first 2 rows gain 50 Attack Damage.
Tryndamere
Quicksilver
15%
20
Infinity Edge
10
75%
Bloodthirster
10
20
Zac
Bramble Vest
20
20
Warmog's Armor
150
150
Sunfire Cape
20
150
Quinn
Spear of Shojin
10
15
Jeweled Gauntlet
10
15%