Synergies







This comp is all about the new gamble trait - Underground. Since you'll gain the most progress when you're losing, you should go on a lose streak in the early game and then complete your heist and spiking your board throughout the mid game!




Go for this comp if you have a Underground starter before the start of the very first PvP round to make sure you're stacking that progress from the beginning.
This comp rolls gold above 50 to look for 3-star champions.

Ezreal
Leona

Vi

Samira

Sona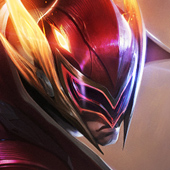 Lee Sin

Sivir

Kayle
3
2
1
1
1
1

Ezreal

Vi

Kayle

Renekton

You really want to activate the Underground trait from the first round of the game to get your progress going. Go on a lose streak and DON't level up until Krugs.
3
3
2
2
2
1

Ezreal

Vi

Yasuo

Ashe

Kayle

Renekton



For your mid game you want to start winning your games so that you don't lose too much health. You'll break your streak by completing your heist and taking up the loot offered! Level up to 6 at stage 3-2.