This comp is a level 6 slow roll comp that looks to itemize around Trundle, Vi, and Ekko. You can reroll for more units like Ezreal, Leona, and Blitzcrank, but we recommend going for more levels after hitting your core of 3 star units.
When to make
Go for this comp if you find Trundle quickly and have good items for him. You should also go for this comp if other people are slow rolling for 2 cost units like Katarina or Kog'Maw.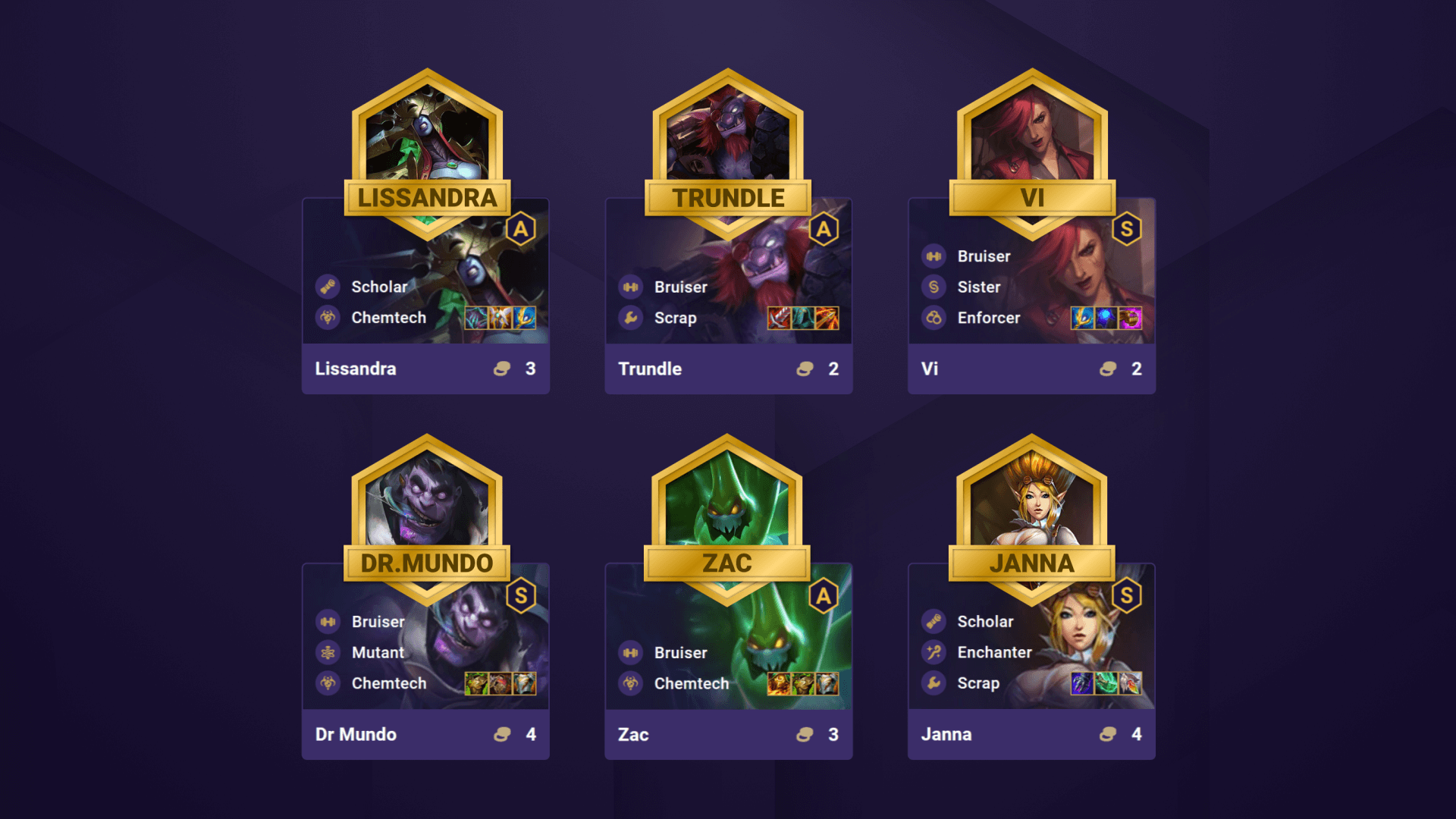 Level up to 4 early if you want to start a win streak. Level up to 5 to try and continue the streak.

If you're weak in the early game, you can opt to save gold and lose streak instead.
At Round 3-2, level up to 6 regardless of your start. Put together the strongest team you can.

Once you hit 50 gold, look to start slow rolling for all of your units. The priority should be around Trundle, Ekko, and Vi.
Once you hit your 3 star units, level up to 7 and add in more units. Eventually, look to hit level 8 and complete the comp.
Early Game
Try to build around Trundle and Scrap early game as this lets you slam items on Trundle.
Mid Game
At this point, you should be able to fit in 6 of your core units. If you don't have Janna yet, Ezreal is fine to have. If you find Janna, you can replace Ezreal and keep him on the bench until you can hit 6 Scrap.
Trundle and Ekko are arguably the two most important units to 3 star. Trundle because he is the main damage carry, and Ekko because he provide a ton of utility to the team. Vi is a nice bonus to have, but you can safely level after these 2.

Slow rolling at level 8 is also an option if you find Trundle very quickly. This will give you better odds to find Ekko and possibly even Jinx.