This comp rerolls for Samira, and is very close to a Talon reroll comp. If you originally planned on playing Talon, you can pivot into this comp if you find more Samira's.
When to make
Go for this comp if you find a lot of copies of Samira.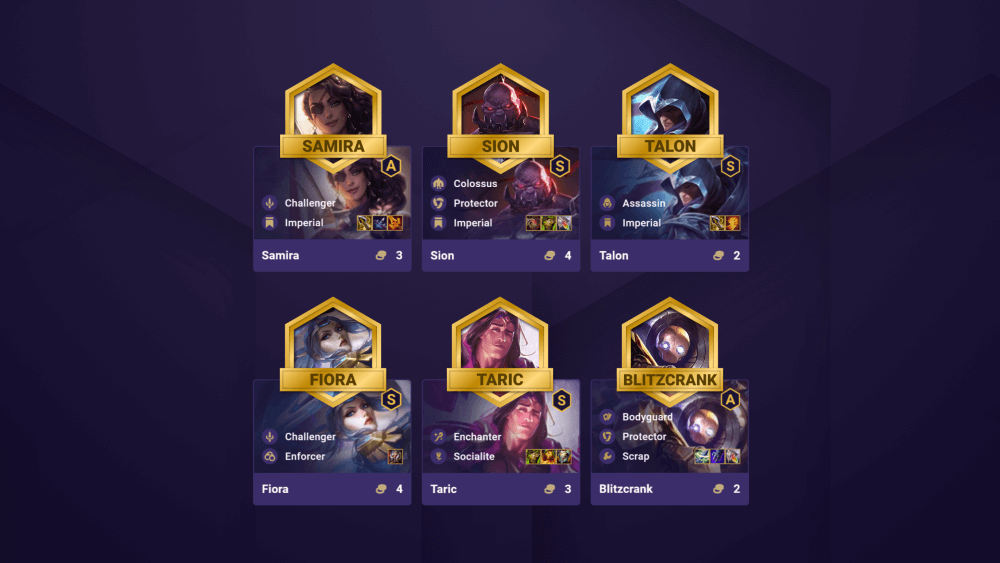 Level up to 4 early if you want to start a win streak. Level up to 5 to try and continue the streak.

If you're weak in the early game, you can opt to save gold and lose streak instead.
At Round 3-2, level up to 6 regardless of your start. Put together the strongest team you can.

Once you hit 50 gold, look to start slow rolling for Samira or Talon. If you are committed to playing Samira carry over Talon, you can also wait until level 7 to slow roll. Although hitting Samira 2 is a good idea at level 6 to stabilize also.
If you've already leveled up to 7, continue slow rolling for Samira 3.

If you're still level 6, you can opt to level up to 7 at 4-1 and continue slow rolling once you have enough gold.
Early Game
The early game is quite simple as you want to just put in upgraded units along with Talon.
Mid Game
This comp basically runs with only 6 units. And you can find these units even though they're 4 cost by slow rolling at level 6 or 7.
Taric is not necessary for this team comp, especially if the Socialite hex is in a bad spot. You can run another Challenger or Imperial if you have a Heart, or you can run just about any unit to want. Jayce for Enforcer, Janna for healing and Scrap, etc.
Recommended Hextech Augments
Imperial Crest
Gain an Imperial Emblem and a Swain.
Dual Rule
There are now 2 Tyrants.
Challenger Heart
Your team counts as having 1 additional Challenger. Gain a Quinn