This comp, as per the title, is credited to Peeba who is famous for making expensive team comps on set releases. This comp combines essentially the strongest units in the game to overpower any team comp in the late game. As such, you will want to use the Mercenary units to gain extra economy to afford this comp.
When to make
Go for this comp if you have a strong economy with units like Mercenaries and have a window to transition to this expensive comp.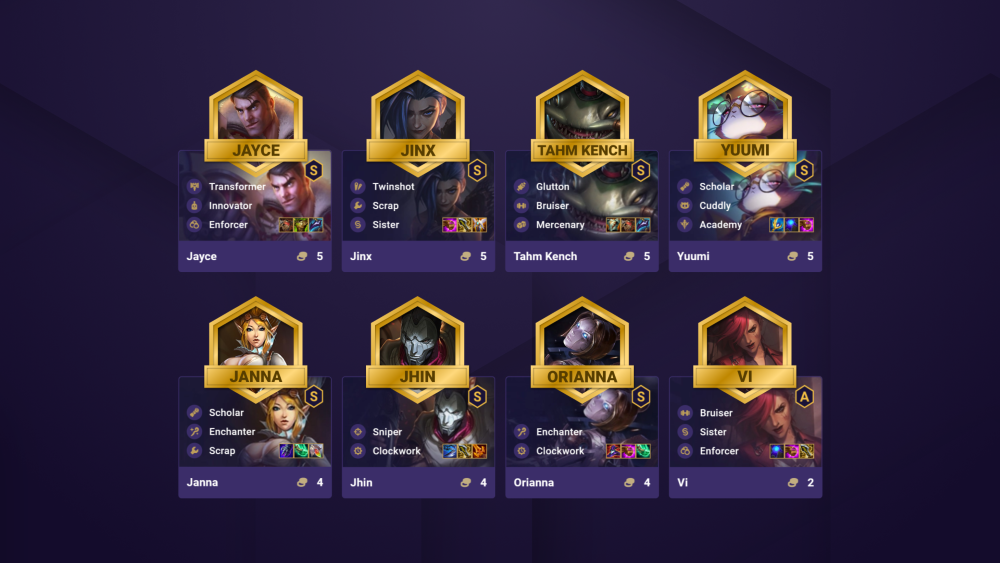 Level up to 4 early if you want to start a win streak. Level up to 5 to try and continue the streak.

If you're weak in the early game, you can opt to save gold and lose streak instead.
At Round 2, level up to 6 regardless of your start. Put together the strongest team you can.
At Round 1, level up to 7. Roll down to stabilize your comp if you are weak. If you can hold off, try to save up for level 8 before rolling to leverage your economy.

Save up to hit level 8 at 5-1 or earlier if you have enough gold. Leveling up at Round 3 or Round 5 is great to increase your chances to hit higher cost units. You can then keep saving and roll down at 5-1 to find all your upgrades.
Early Game
This comp doesn't have any required early game units as a majority of the units are higher cost. You can use just about anything, but you can try to look for Mercenaries to gain extra gold.
Mid Game
At this point, you should be able to have 3 Mercenaries in and you should build around them with supporting units to reach trait bonuses.
This comp can be very expensive to put together, so don't try to force this comp every game. You should more so view this comp as a late game option to transition to rather than a comp to go for in the beginning.

Make sure to feed Tahm Kench every round with the highest gold priced unit you have. For example, a 2-star 2-cost unit (which costs 6 gold) will be more value to feed to Tahm Kench than a 1-star 5-cost unit (which costs 5).
Recommended Hextech Augments
Mercenary Soul
Your team counts as having 2 additional Mercenaries.
High End Shopping
Champions appear in your Shop as if you were 1 level higher.
Pirates
Mercenary units have a 50% chance to drop 1 gold when they kill an enemy.
Jayce
Bramble Vest
20
20
Warmog's Armor
1000
Dragon's Claw
20
20
Jinx
Jeweled Gauntlet
10
15%
Infinity Edge
10
75%
Guardian Angel
20
10
Tahm Kench
Gargoyle Stoneplate
20
20
Bramble Vest
20
20
Dragon's Claw
20
20