This comp revolves around the Academy trait and slow rolls for Garen and Katarina. Katarina is the main damage carry of the comp, so Garen will use defensive items while Katarina will use your offensive items.
When to make
Go for this comp if you find lots of copies of Academy units early on. Also, having a Hextech Augment that gives you more rerolls will be very beneficial for this comp.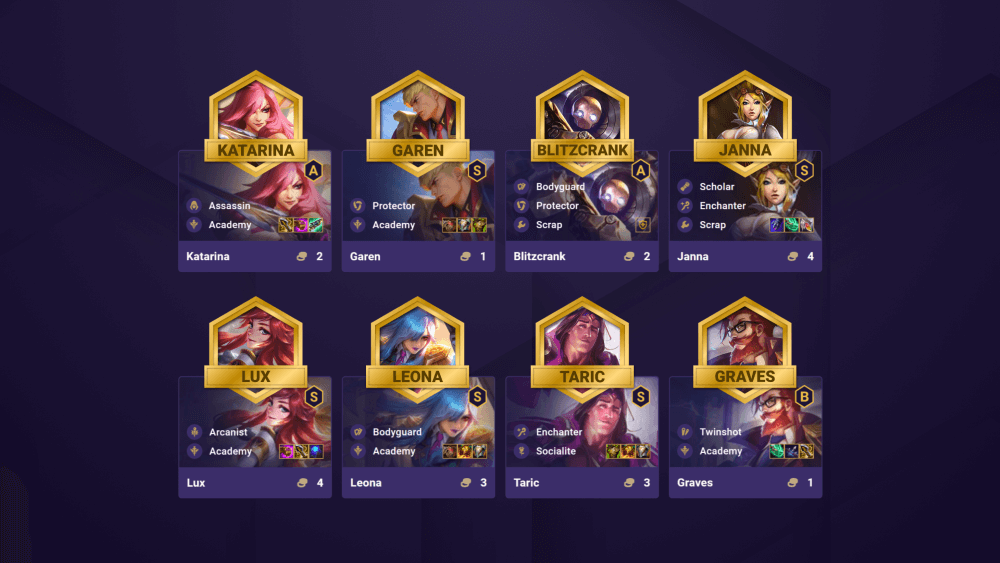 In the early game, don't level in order to save up gold.
Once you hit 50 gold, start slow rolling for units like Garen, Katarina, Graves, and Kassadin.
After you've hit enough 3 star units start catching up in levels and adding in more units to complete the team comp.
Early Game
Putting together Academy units along with another supporting unit like a Protector or an Assassin will be helpful to buff up Garen and Katarina.
Mid Game
At this point, you should be able to fit in 4 Academy along with some supporting units.
Getting Katarina 3 star can be difficult when you're mainly slow rolling at level 5 to find Garen. Ideally you find a good amount of copies and can naturally upgrade Katarina when you are catching up in levels.
Recommended Hextech Augments
Trade Sector
Gain a free Shop refresh each round.
Golden Ticket
Each time your Shop is refreshed, you have a 40% chance to gain a free refresh.
Academy Soul
Your team counts as having 2 additional Academics.