This comp follows a simple ranged AD carry formula that we've seen set after set. Orianna can be your magic damage carry if you have a Sniper Emblem for her. Otherwise you will want to put in Miss Fortune or have something like Sniper Heart.
When to make
This comp doesn't use any large vertical trait, so you can play this comp almost any game with any start. Focus on getting good items for Jhin and picking up strong utility units when you find them.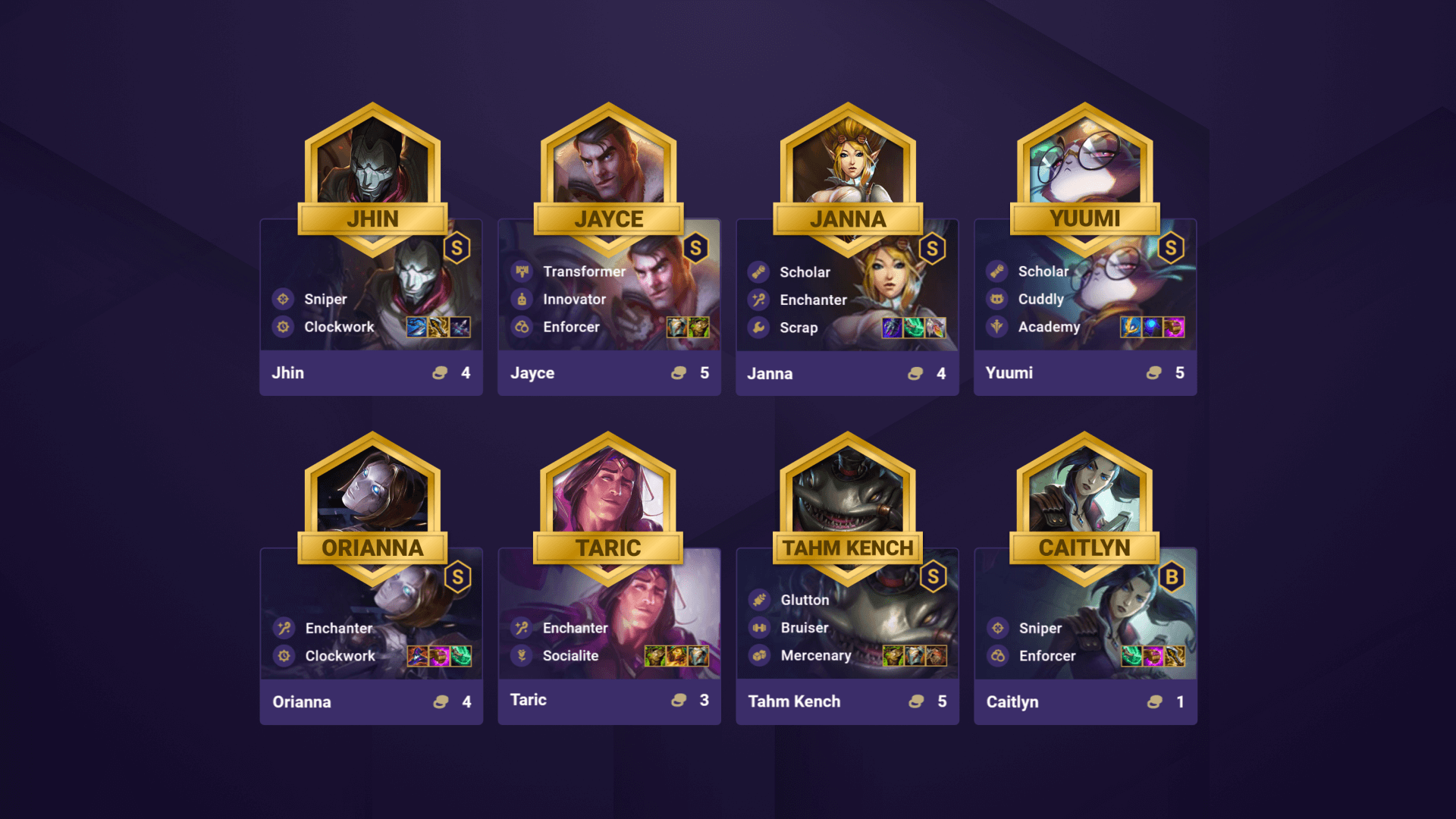 Level up to 4 early if you want to start a win streak. Level up to 5 to try and continue the streak.

If you're weak in the early game, you can opt to save gold and lose streak instead.
At Round 2, level up to 6 regardless of your start. Put together the strongest team you can.
At Round 1, level up to 7. Roll down to stabilize your comp if you are weak. Afterward save up to hit level 8 and complete your comp.
Early Game
Simple enough, build around a strong frontline and an AD backline to hold items for Jhin.
Mid Game
Start picking up stronger 3-cost units to replace lower cost units and to add in with your extra unit slots.
Miss Fortune is not easy to fit into this team comp if you are missing the Sniper Emblem. All of the units synergize very well. Your best bet is probably to drop either Blitzcrank or Orianna. See if your frontline or backline damage is lacking in either case and decide. Or go for level 9.
Recommended Hextech Augments
Sniper Crown
Gain 2 Sniper Emblems.
Sniper's Nest
Snipers gain +8% damage per round they've started combat in the same hex. (Maximum +40%)
Sniper Crest
Gain a Sniper Emblem and a Tristana.