This comp combines the offensive and defensive Abomination with Zyra as your main 3 star carry. The comp uses the Draconic trait early on to look for Zyra 3 and build a strong economy. Abomination provides a strong mid game to help you stabilize while you slow roll.
When to make
Go for this comp when you have good Zyra items and good start with Draconic units. This will let you snowball your economy.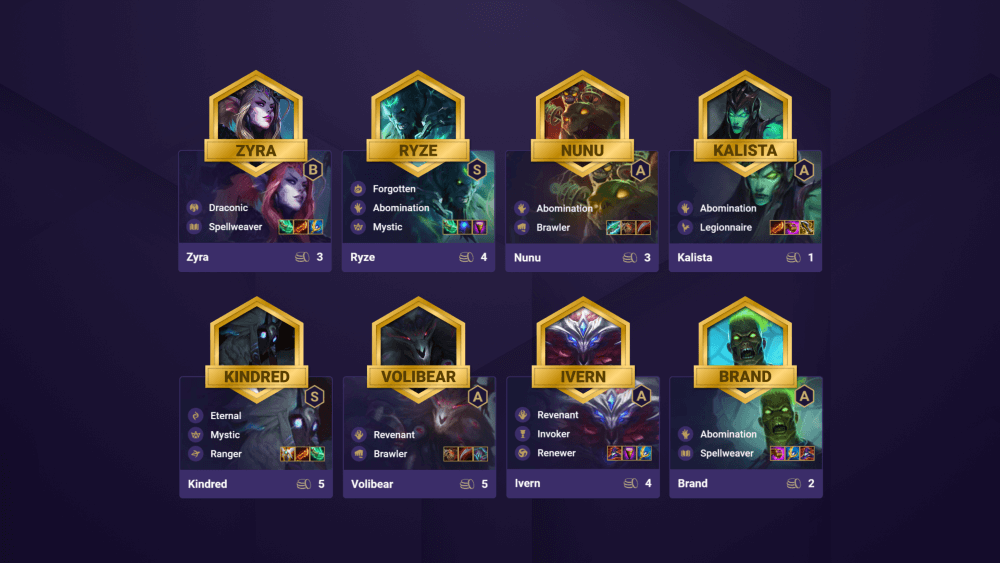 Level up to 4 early if you want to start a win streak. Level up to 5 to try and continue the streak.

If you're weak in the early game, you can opt to save gold and lose streak instead.
At Round 2, level up to 6 regardless of your start. Put together the strongest team you can.
At Round 1, level up to 7. Roll a bit to stabilize your comp if you are weak.

Start slow rolling for Zyra 3 along with Draconic. Once you find her, level up to 8 to complete your team comp. You can also stop early if you are very strong and want to find Zyra through Draconic.
Early Game
This is a simple board that uses the Draconic trait. This also provides a strong transition into more Brawlers or Abomination with Nunu.
Mid Game
In the mid game, you will want to roll down to either have Draconic + Abomination or Draconic + Brawlers.
Ideally, you will want to have Draconic as early as possible. This means you will want to usually level up early in order to find an Ashe or Zyra quickly. If you're fortunate enough to find one easily, you can choose to level or not based on your board strength.