The comp centers around the Abomination trait and itemizing the Abomination units to make Sion into a high damage Assassin type unit. The comp then looks to have another backline DPS source like Heimerdinger, Teemo, or Draven
When to make
Go for this comp if you can build strong attack damage items for the Monstrosity.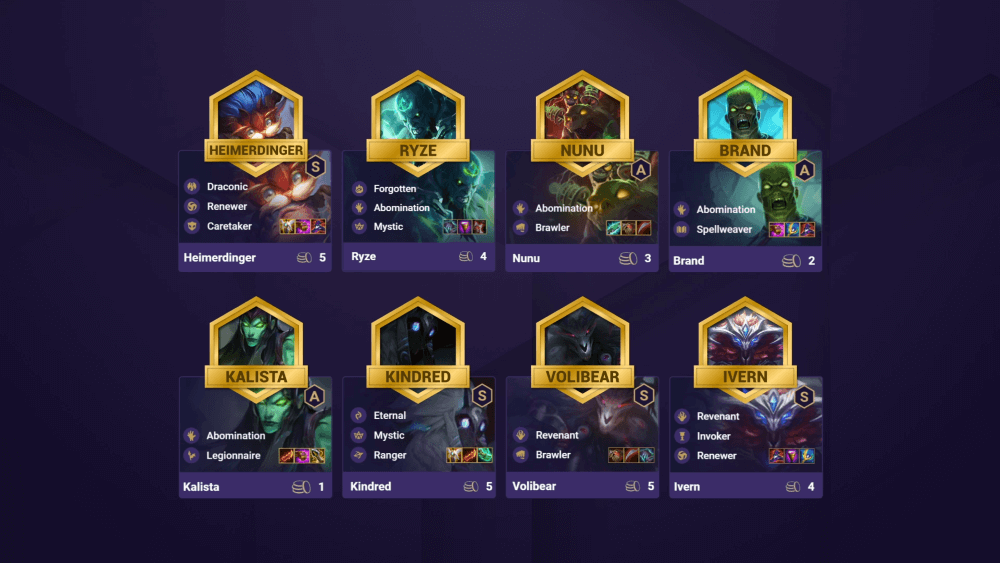 Level up to 4 early if you want to start a win streak. Level up to 5 to try and continue the streak.

If you're weak in the early game, you can opt to save gold and lose streak instead.
At Round 2, level up to 6 regardless of your start. Put together the strongest team you can.
At Round 1, level up to 7. Roll down to stabilize your comp if you are weak. Afterward, save up to hit level 8 and complete your comp.
Early Game
To easily transition into Abomination, you will want to look for Brawlers and possibly Legionnaire for more damage.
Mid Game
At level 6, you will be able to fit in 4 Brawlers with 3 Abomination. This will be a solid mid game comp to have. At level 7, you can add in Ryze for Abomination 4, and then finally at level 8 you can transition into the final team comp.
Make sure to put all of your Abomination items on separate units. The goal is to put three strong attack damage items on your backline Abomination units. This way, you can put tankier items on Nunu without having them be put onto the Monstrosity.