This comp revolves around 3 starring Soraka and the Renewer trait. This allows Soraka to be quite tanky and also allows Vladimir to be a 3-star tank on the team. The comp also uses Coven to buff up Soraka's damage even further.
When to make
Go for this comp if you have a good start early with Renewers and can build good items for Soraka or Vladimir early. Having multiple copies of Soraka and Vlad will also help you hit your 3 stars.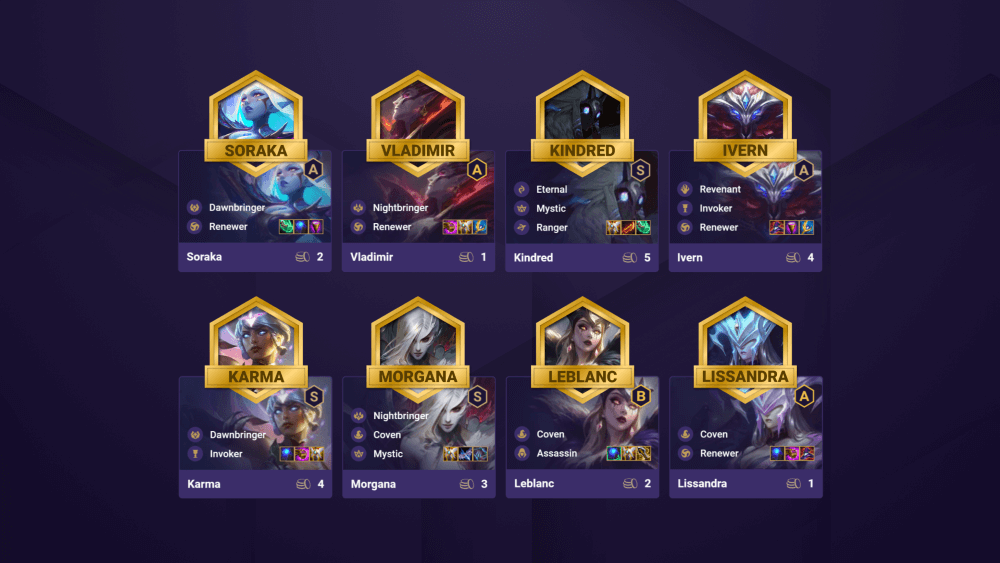 Level up to 4 early if you want to start a win streak. Level up to 5 to try and continue the streak.

If you're weak in the early game, you can opt to save gold and lose streak instead.
At Round 2 level up to 6 and put together the strongest board you can.

Start slow rolling for Soraka 3 star and Vladimir 3. If you hit only Soraka, you can still look to level up and skip Vladimir.
Once you hit Soraka 3, look to level up to add in more units and complete your team comp.
Early Game
In the beginning, something simple like Renewers and Brawlers can be very strong. Don't be afraid to use other units that you find as well.
Mid Game
In the mid game, you can pivot toward your Coven units and look buff up Soraka. If Vladimir is strong enough to tank by himself, you can drop your other units for something like Lulu or Lux.
If you plan to move your comp to another location, try to keep the same formation intact. Soraka should be in the center of the Coven units and the rest of the team can surround her to keep her safe. Vladimir goes in front to tank and Karma is used as a decoy.