This comp looks to make Hecarim into an unkillable frontline unit. The comp has most of it's backline damage with the Spellweavers. Viktor and Brand are also units you look to 3 star alongside Hecarim as they are all 2 cost units.
When to make
Go for this comp when you have a lot of Cavaliers to start out and mostly defensive items. Hecarim will need a lot of strong tank items to fulfill his role, so make sure you're covered there.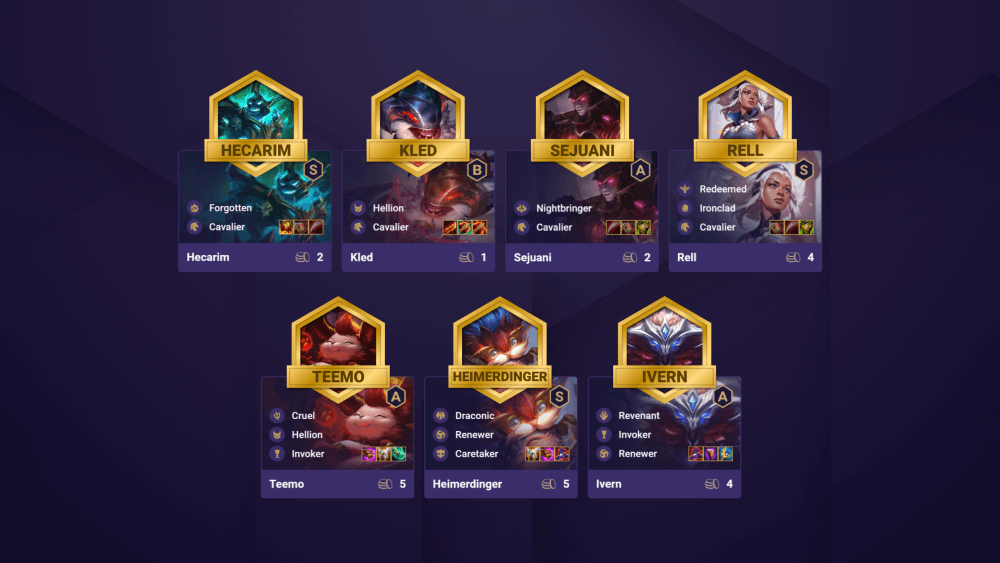 Level up to 4 early if you want to start a win streak. Level up to 5 to try and continue the streak.

If you're weak in the early game, you can opt to save gold and lose streak instead.
At Round 2, level up to 6 regardless of your start. Put together the strongest team you can.

Once you are at 50 gold, start slow rolling for 3 star units like Hecarim, Brand, and Viktor.
After hitting your 3 star units, level up to 7 to add in your 4th Cavalier or Nautilus. If you are able to reach level 8 after, you can add in any unit you want.
Early Game
You will want your main frontline to be Cavaliers with any backline damage source. Hellions are an example of a strong early game backline damage source.
Mid Game
In the mid game, you can transition into many different units. You can continue running what you have, but try to transition toward the Spellweavers and Cavalier units.
In the early game, you can likely get away with some wins with a purely defensive team, but you should try to fit in backline damage when you can. An unkillable Hecarim is great, but you will want backline damage to make full use of his tankiness.