This comp is a hyper defensive comp that uses units like Leona 3 star and Knights to make a very tanky frontline. The bulk of the damage is dealt with Kalista who we also look to 3 star for this comp.
When to make
Go for this comp if you find many copies of Kalista and Leona. Having decent defensive and attack damage items will also be important for this comp.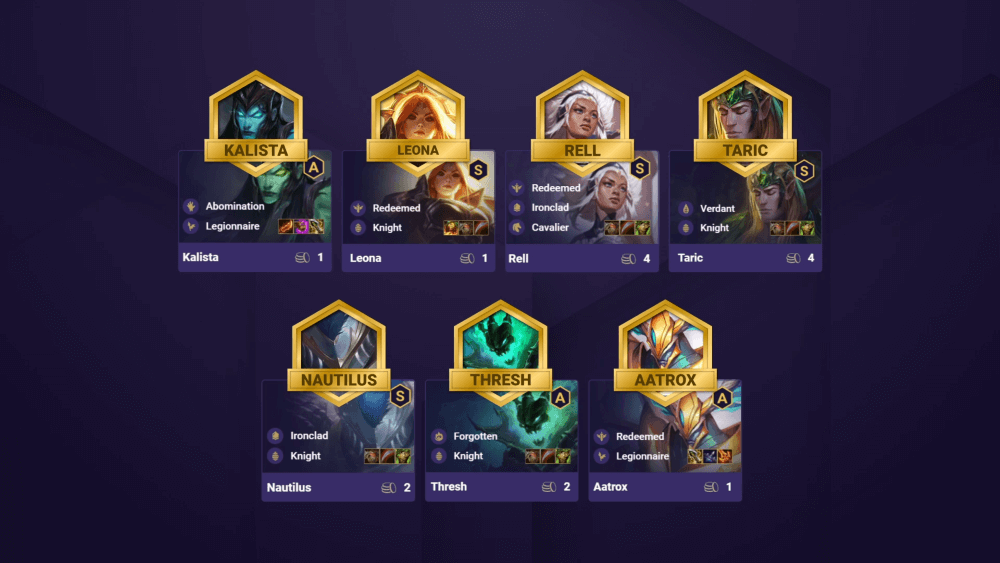 Don't level up early and save gold to slow roll at level 5.
Begin slow rolling for Kalista and Leona 3 star. If you find only Kalista, you can skip Leona if she has strong defensive items. If you only find Leona, you can level up if you replace Kalista for a different carry like Kayle later in the game. Ideally, you find both.
Once you decide to stop slow rolling, slow level up to 6 to catch up to the rest of the lobby. You can then spend most of your gold to hit level 7 if you have a good unit to put in or want to catch up aggressively. Continue looking for upgrades or try to hit level 8 if you can.
Early Game
Kalista and Leona already pair together very naturally with the Redeemed trait and Legionnaire trait.
Mid Game
At this point, you want to have your 4 Knights along with your 2 Legionnaires. You can switch a unit here or there, but try to make the most of your synergies around Kalista and Leona.
Your Kalista positioning will be very important as she is essentially the sole damage source of the team. One misstep and you will have a very hard time winning the fight.

If you make it to the late game, you can always try to transition Kalista into a Kayle 2 star if you think itll be better. Kalista will provide more damage up front, but against other defensive teams, Kayle will be the stronger option as she scales much better throughout a fight.