This comp uses high cost units to make an extremely powerful late game centered around Teemo and the Invoker trait. Hitting level 9 is quite important for this comp to hit your upgrades and fitting in another unit helps a lot as well
When to make
Go for this comp if you have a strong magic damage game and can transition into this comp in the late game.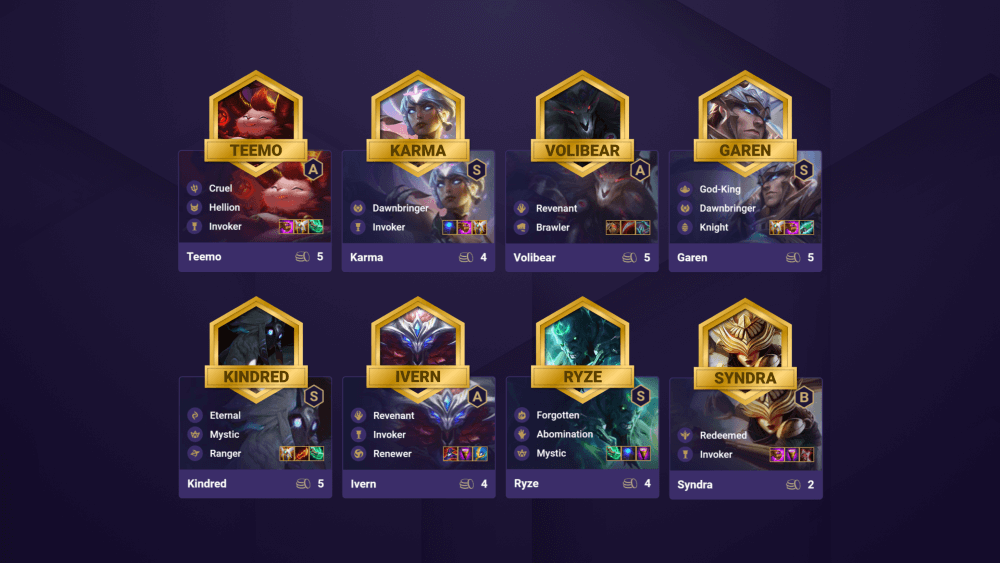 Level up to 4 early if you want to start a win streak. Level up to 5 to try and continue the streak.

If you're weak in the early game, you can opt to save gold and lose streak instead.
At Round 2, level up to 6 regardless of your start. Put together the strongest team you can.
At Round 1, level up to 7. Roll down to stabilize your comp if you are weak.

Level up to 8 at 4-5 and wait until 5-1 to roll down. If you are weak or need to stabilize further, you can roll down at 4-5 for your upgrades.
Early Game
You don't have to use Invokers specifically, you should mainly try to use whatever you can to try and win streak. Syndra can be used in the early and mid game, but it's not required as long as you find her again later.
Mid Game
The most important part about the mid game is to use whatever carries you find to make your strongest board. Being strong will allow you to reach the late game with a strong economy to complete the team comp.
The late game for this comp is very flexible. You can drop whatever units you can't find for things like Mystic, Ironclad, Invokers, Renewers, etc. The difficult part is staying strong while also building a strong enough economy to complete this team comp.