This comp revolves around Yasuo as the main carry and surrounds him with Nightbringer and Dragonslayer units. This provides the team with a lot of utility and frontline for Yasuo to build up his damage throughout the fight
When to make
You will ideally go for this comp when you have good items for Yasuo. This means you have more Bows to make Yasuo's items. Finding a lot of copies is also important as you will want to 3 star him as your main carry.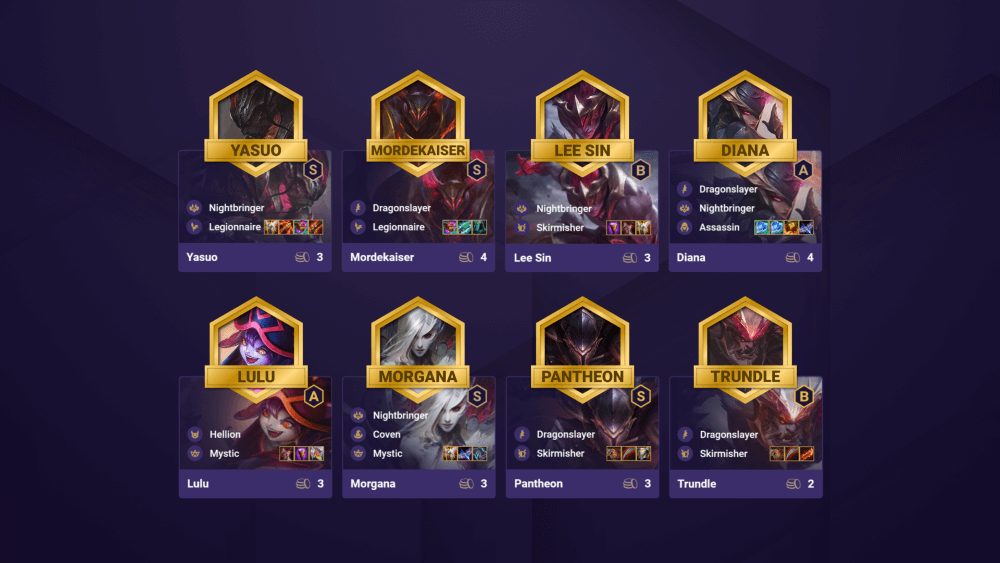 Level up to 4 early if you want to start a win streak. Level up to 5 to try and continue the streak.

If you're weak in the early game, you can opt to save gold and lose streak instead.
At Round 2, level up to 6 regardless of your start. Put together the strongest team you can.
At Round 1, level up to 7. Roll a bit to stabilize your comp if you are weak.

At this point, you can choose to slow roll for Yasuo 3 if you are committed to him as your main carry. This can be a good option if you have a decent amount of copies and want to find him quickly.

If you are very strong, you can opt to level up to 8 before looking for Yasuo 3. This will make it more expensive to find him, but you will become stronger by guaranteeing level 8. This also lets you find 4 and 5 cost units easier to fill out your team.
Early Game
Ziggs can be a solid item holder for Yasuo early on. Sejuani will also transition into Nightbringers, so this works out quite well. You can still use other units as long as you balance your frontline and backline.
Mid Game
By the mid game, you should be able to find Yasuo. Pair him with more Nightbringers and Legionnaires to buff up his damage. You can also add in the Dragonslayer Skirmishers to pair with Lee Sin.
Yasuo will be a very powerful carry at 2 stars, but you will want to move him around the board to make sure he isn't hit by enemy abilities. His range with RFC is only 2 hexes, so try to place him in an area that is safe.