This comp focuses on Jax as the main carry in a Skirmisher team. The Dragonslayers provide a lot of utility and tank while Jax will safely deal damage from behind with RFC.
When to make
Go for this comp if you can make good Jax items and have a good start with Skirmishers.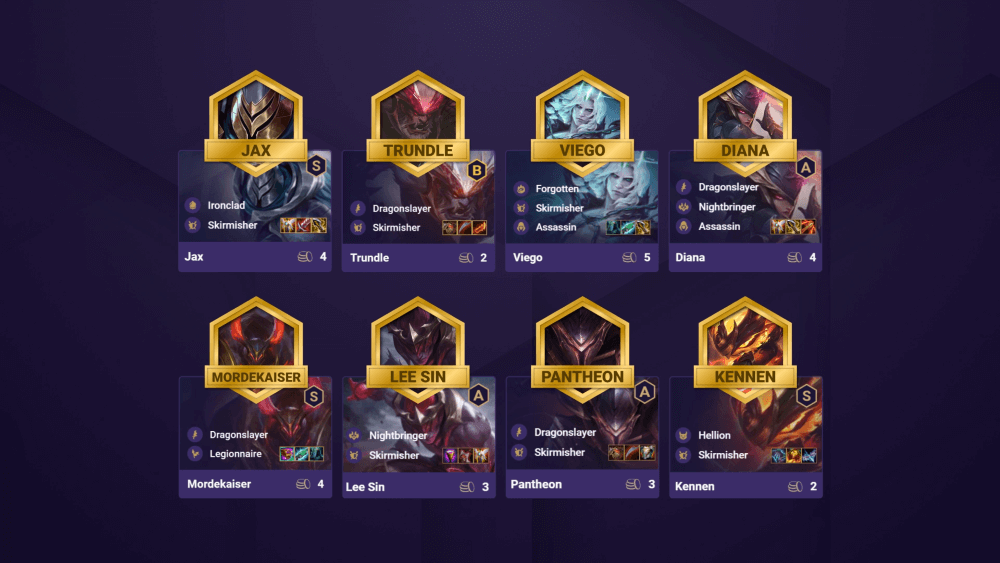 Level up to 4 early if you want to start a win streak. Level up to 5 to try and continue the streak.

If you're weak in the early game, you can opt to save gold and lose streak instead.
At Round 2, level up to 6 regardless of your start. Put together the strongest team you can.
At Round 1, level up to 7. Roll down to stabilize your comp if you are weak. Afterward, save up to hit level 8 and complete your comp.
Early Game
You mainly just want to have as many Skirmishers as possible while using other units you find to fill the other spots.
Mid Game
Hitting 6 Skirmishers gives the team a big power spike, but if you can't find them all, use supporting synergies like Nightbringer or Dawnbringer.
Another option for this comp is to run Nidalee as a second carry. This is an option if you think you can 3 star Nidalee or have good items for Nidalee and Jax. Simply replace one of your Skirmishers like Kennen or Lee Sin to make room for Nidalee.