This comp uses the 6 Assassin trait to power up your two main carries in Katarina and Nocturne. The comp looks to transition from the early game using things like Forgotten and Katarina. In the late game, you will have dual carries with Revenant to give Nocturne a buff as well.
When to make
Go for this comp if you have good Assassin items. This will be things like Infinity Edge or Blue Buff for Katarina.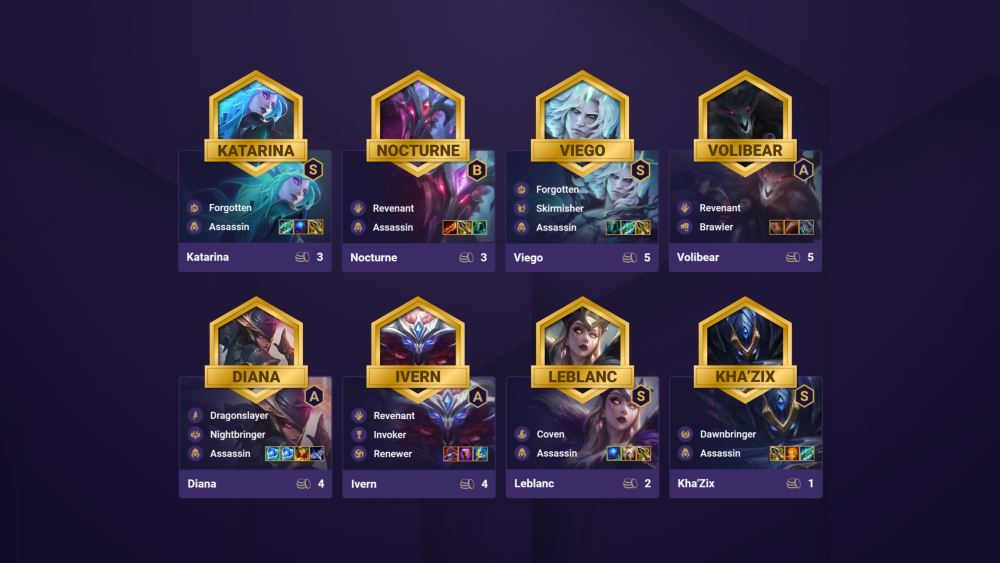 Level up to 4 early if you want to start a win streak. Level up to 5 to try and continue the streak.

If you're weak in the early game, you can opt to save gold and lose streak instead.
At Round 2, level up to 6 regardless of your start. Put together the strongest team you can.
At Round 1, level up to 7. Roll a bit to stabilize your comp if you are weak.

At this point, you can choose to slow roll for a 3-star upgrade, or level up to 8 for a consistent power upgrade.
Early Game
In the early game you want to set up for your Assassins. Katarina does very well early and mid game with Forgotten, so try to set up for that.
Mid Game
In the mid game, you can look to run Forgotten along with some Assassins that you find. Don't be afraid to use other synergies you find along the way if you can upgrade other units as well.
You don't have to slow roll for a 3 star Assassin at level 7. If you are doing very well, you can simply level up to 8 and then look for 3 stars afterward. This guarantees that you will hit your level 8 power spike. However, if you're not doing well, you will have to make a decision about whether or not you should slow roll at 7. If you hit a 3 star, you'll stabilize. If you level up to 8, you'll power up more consistently, but it might not be enough.