This comp revolves around the Hellion trait and uses Tristana as the main carry. This version doesn't use the Cannoneer trait and instead looks to go for 8 Hellions for the large attack speed buff.
When to make
Go for this comp if you have a good start with Hellions and good Tristana items.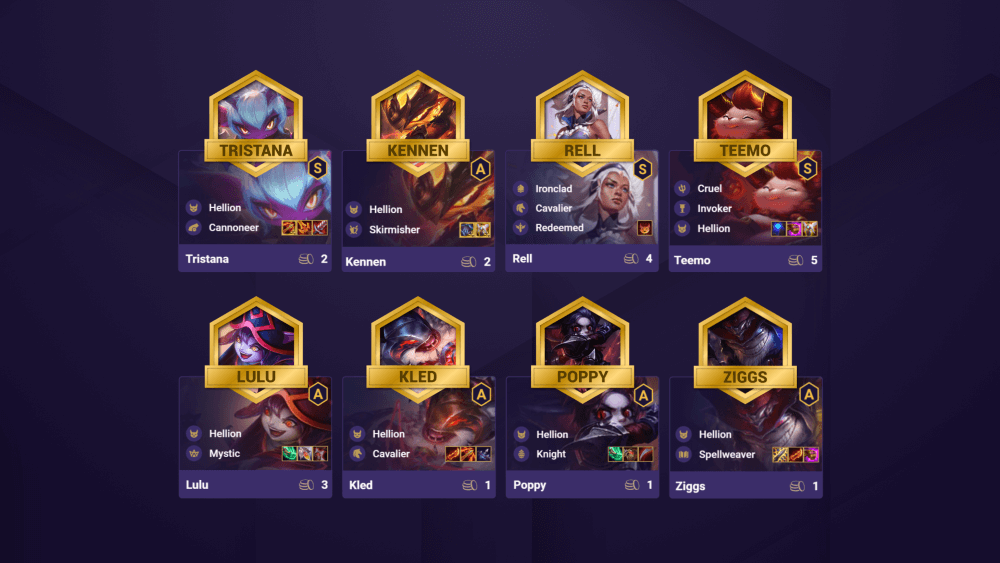 Level up to 4 early if you want to start a win streak. Level up to 5 to try and continue the streak.

If you're weak in the early game, you can opt to save gold and lose streak instead. This is usually preffered as you can guarantee a strong economy to slow roll.
During Stage 3, you can slow roll at level 5 to hit a few upgrades for 1 and 2 cost units. This will also help you find more copies of 1-cost units.

At Round 5, level up to 6. Roll until you are able to at least find Tristana and Kennen 2. After that, build your economy back up to 50 and slow roll for Tristana and Kennen.
Once you hit your 3 star units, level up to 7 and eventually 8.
Early Game
Simple enough, use the Hellion units that you find. If you can only find 2 Hellions, try to use other supporting trait units like Cannoneer, Cavalier, Knight, etc.
Mid Game
The same pattern continues. Add in more Hellion units and use other supporting trait units if you can't find all of the Hellions.
Even though Tristana is your main carry, you can use your items on other units like Ziggs, Poppy, or Kennen. Other items will make your board stronger instead of simply waiting for ideal Tristana items.

If you can't make a Hellion Emblem, you will need to settle for Hellion 6. This means you can drop a Hellion like Poppy to put in any unit you want. This can be a Mystic like Gwen or a Cannoneer like Lucian for more damage.