This comp focuses on slow rolling or hyper rolling for Vayne as the main carry of the team comp. Her ability deals true damage allowing her to shred enemy tanks with enough attack speed. The rest of the comp fill out traits like Ranger, Forgotten, and Ironclad.
When to make
Go for this comp if you have good items for Vayne or find a lot of copies of her early on.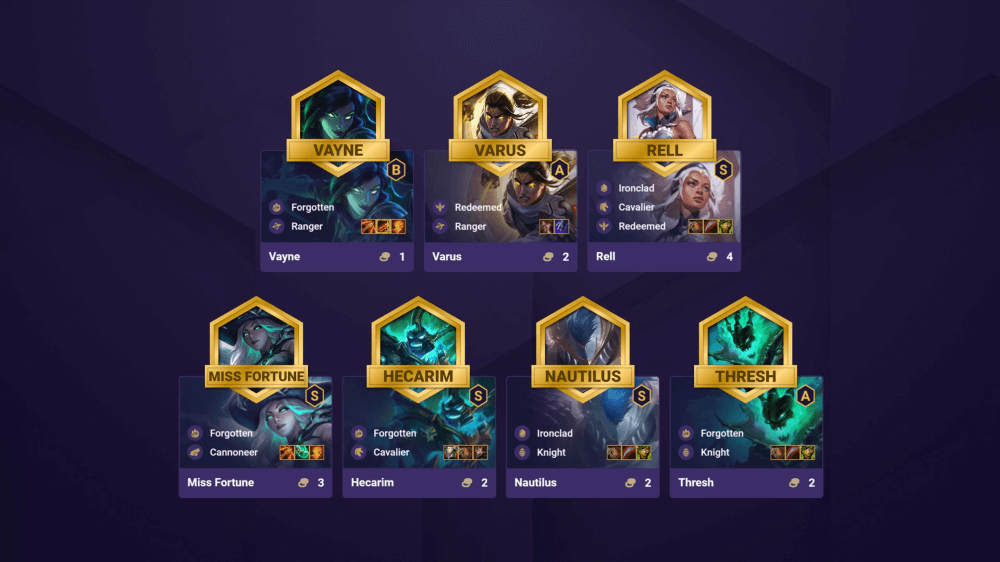 In the early game, don't level in order to save up gold.
Begin slow rolling for your 3 star units once you hit 50 gold. This would be units like Vayne and possibly Hecarim.
Once you hit your 3 star units, start slow leveling to catch up and put in more units. If you are win streaking, you can use most of your gold to hit level 7 to ideally build up your gold again to hit level 8 later.
Early Game
The simple early game build uses the Redeemed units alongside Vayne.
Mid Game
At this point, you simply add in more Forgotten units like Thresh and Hecarim. You can also drop Aatrox for Miss Fortune to reach 4 Forgotten.
You can also look to 3 star other units like Varus or Leona while rerolling for Vayne. If you are able to 3 star Leona, you can use her as your main tank and replace a unit like Nautilus.