This is a slow roll comp revolving around units like Hecarim and Miss Fortune. Hecarim acts as the main tank of the comp, while Miss Fortune provides the backline damage.
When to make
Go for this comp if you find many copies of one of your 3 star candidates. Items are flexible as Hecarim covers defensive items and Miss Fortune uses Ability Power items.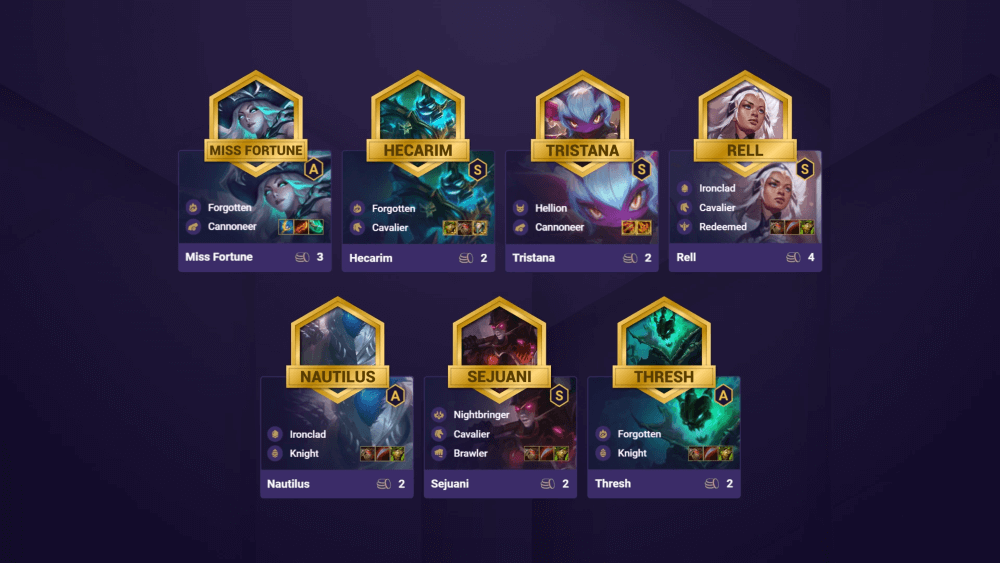 Level up to 4 early if you want to start a win streak. Level up to 5 to try and continue the streak.

If you're weak in the early game, you can opt to save gold and lose streak instead.
At Round 2, level up to 6 regardless of your start. Put together the strongest team you can.

Once you get back up to 50 gold, begin slow rolling for 3 star units. Once you feel like you have enough 3 stars, you can look to hit level 7.
Once you are at level 7 you can choose to save up for level 8 or you can continue to slow roll for more 3 star units if you feel like that will give you a bigger power spike.
Early Game
Hellions and Cavaliers make for a very easy transition into this comp. Tristana and Hecarim fit right into these boards.
Mid Game
In the mid game, you can add in your 3 cost units like Miss Fortune. Once you find your 2-cost units like Sejuani, Nautilus, and Thresh, you can then replace Hellion and transition toward the main comp.
Since most of this comp uses 2 cost units, you will be looking to mainly slow roll at level 6. Your main priorities are Miss Fortune and Hecarim, but you can look for other 3 star units like Thresh and Nautilus as well. Try to decide when to stop and level depending on your in game circumstances.
Miss Fortune
Archangel's Staff
15
10
Guinsoo's Rageblade
10
10
Spear of Shojin
15
10
Hecarim
Dvarapala Stoneplate
20
20
Bramble Vest
20
20
Warmog's Pride
1800
Thresh
Banshee's Claw
5%
10%
150