This comp slow rolls for the Hellion units and focuses on Kled as the main carry of the comp.
When to make
Go for this comp if you find a good start with Hellion units and good Kled items.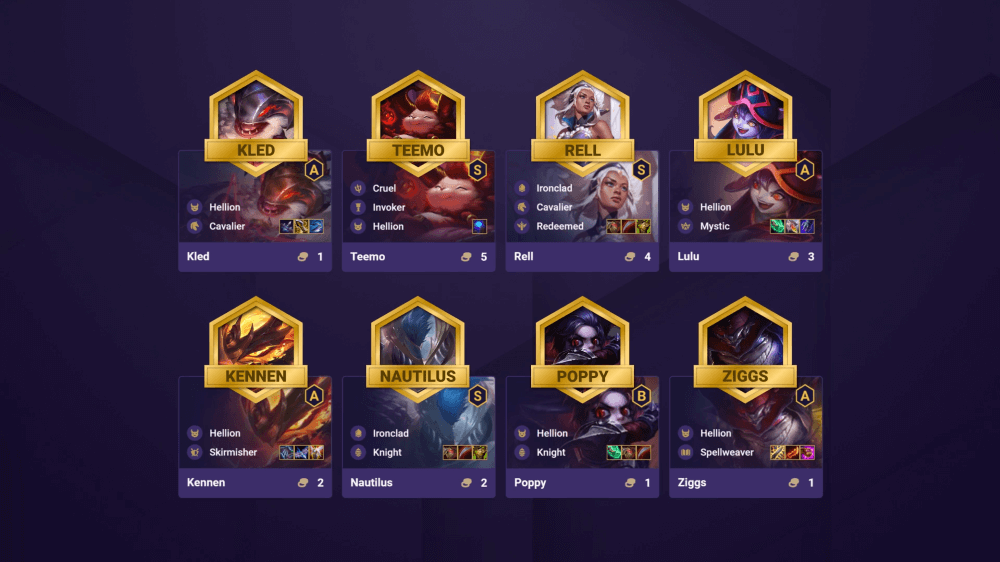 In the early game, don't level in order to save up gold.
Begin slow rolling for your 3 star units once you hit 50 gold. This would be units like Kled and Poppy and Kennen if you can afford it.
Once you hit your 3 star units, start slow leveling to catch up and put in more units. If you are win streaking, you can use most of your gold to hit level 7 to ideally build up your gold again to hit level 8 later.
Early Game
Simple enough, you should go for the Hellion units along with things like Cavalier or Knight.
Mid Game
At this point, add in more units for trait bonuses or add in more Hellions.
Going for other 3 star units like Kennen, Nautilus, or Poppy are good ways to try to place higher in the lobby. However, doing this can make it more difficult to level up. Try to balance going for 3 stars and making sure you can hit higher levels to find units like Rell and Teemo.