This comp revolves around Jax as the main carry in a Skirmisher and Knight team comp. This comp follows a simple progression, but will need strong items for Jax in order to compete with other late game carries.
When to make
Go for this comp if you have a good start with Skirmishers and good items for Jax. Most attack damage items will work well on Jax, but Last Whisper and Bloodthirster are key items.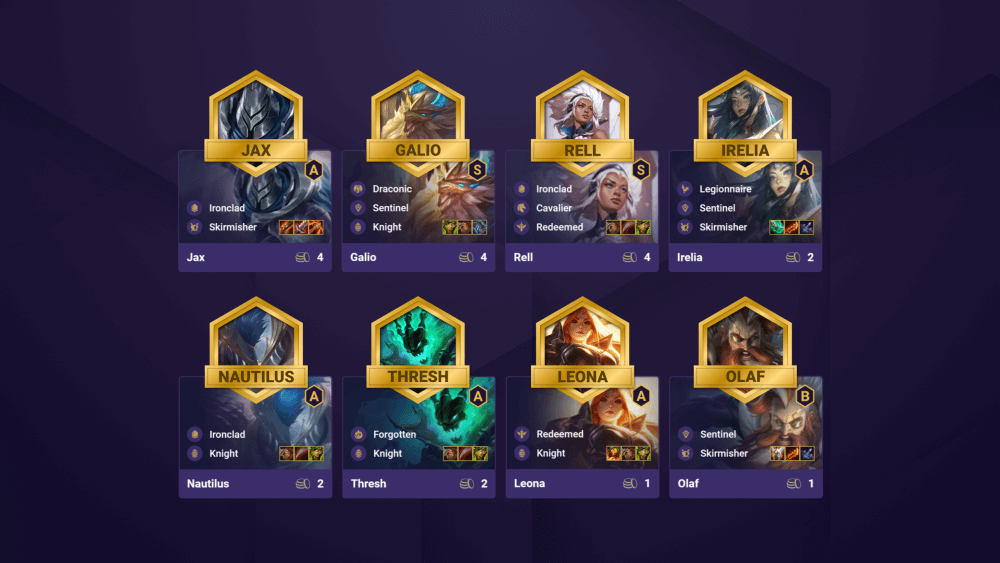 Level up to 4 early if you want to start a win streak. Level up to 5 to try and continue the streak.

If you're weak in the early game, you can opt to save gold and lose streak instead.
At Round 2, level up to 6 regardless of your start. Put together the strongest team you can.
At Round 1, level up to 7. Roll down to stabilize your comp if you are weak. Afterward, save up to hit level 8 and complete your comp.
Early Game
Try to get 3 Skirmishers in your start with a 4th unit providing another trait or just an upgraded unit.
Mid Game
At this point, you can either transition into 6 Skirmishers, or use a combination or Skirmishers and Knights.
Quicksilver is a nice Radiant item as the CC prevention helps a lot for a melee carry like Jax. If you can't find this specific Radiant item, you can always build other options like Rapid Firecannon or Titan's Resolve which give him some survivability.