This comp uses the Draconic trait in the early and mid game to build up a strong economy for the late game. Hitting level 8 with a strong economy can lead to lots of upgraded 5-cost units, but ideally, you will use the Draconic trait to hit level 9 to find your strong 5-cost units easily.
When to make
Go for this comp if you have an early start with Draconic and find yourself streaking through the game. If you don't have a strong economy, you may be better off pivoting to a comp that relies on less 5-cost units.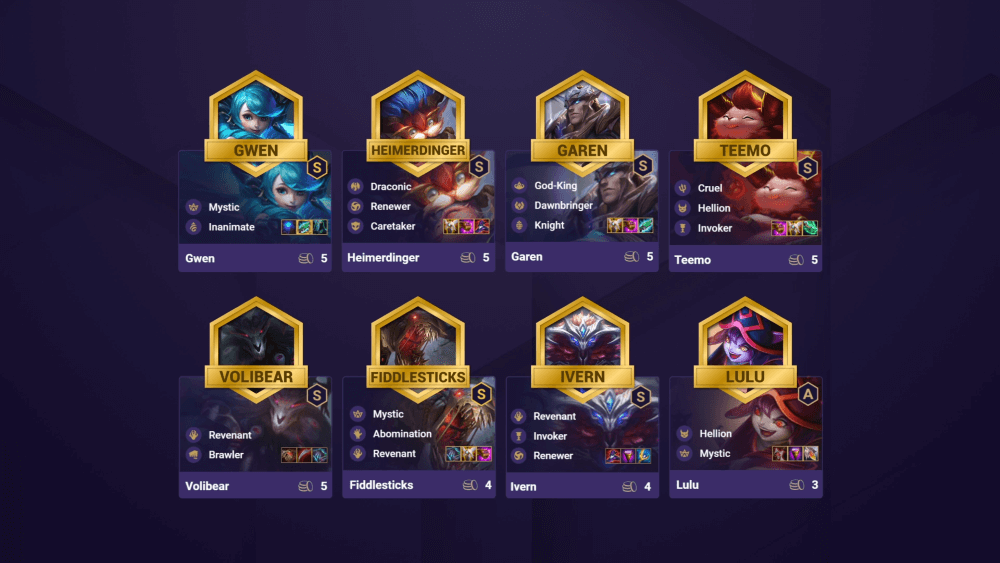 Level up to 4 early if you want to start a win streak. Level up to 5 to try and continue the streak.

If you're weak in the early game, you can opt to save gold and lose streak instead.
At Round 2, level up to 6 regardless of your start. Put together the strongest team you can.
At Round 1, level up to 7. Roll down to stabilize your comp if you are weak. If you can hold off, try to save up for level 8 before rolling to leverage your economy.

Save up to hit level 8 at 5-1 or earlier if you have enough gold. If you are decently strong, save up for level 9 and let the Draconic trait help you find your upgrades. You can choose to roll down at level 8 or save up for 9. After that, transition into your final team comp.
Early Game
Hitting Draconic early is extremely important for this comp, so try to level up early to hit an early Ashe or Zyra.
Mid Game
At level 6, you will be able to fit in Draconic 3 and Abomination 3. Use this core until you are able to fit in 5 Draconic.
Heimerdinger is the main carry of the comp, and finding him is a much easier if you have Draconic 5. Prioritize Heimerdinger items and place them on a temporary carry like Zyra in the meantime.