This comp uses the Abomination trait to provide a lot of frontline and utility while Vel'Koz is the main backline damage carry.
When to make
Go for this comp if you have a good start of Abomination units and good items for either Vel'Koz or Abomination units.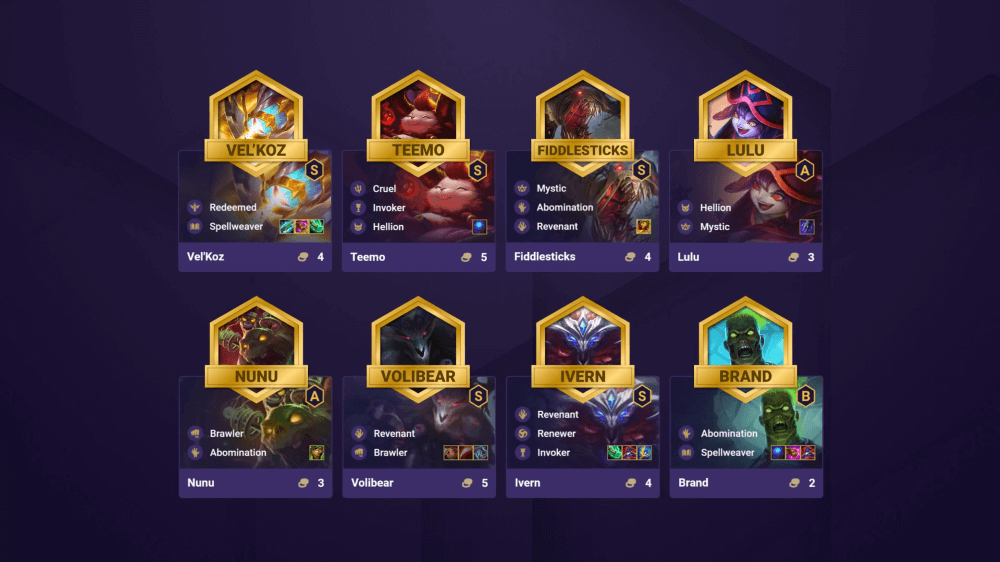 Level up to 4 early if you want to start a win streak. Level up to 5 to try and continue the streak.

If you're weak in the early game, you can opt to save gold and lose streak instead.
At Round 2, level up to 6 regardless of your start. Put together the strongest team you can.
At Round 1, level up to 7. Roll down to stabilize your comp if you are weak. Afterward save up to hit level 8 and complete your comp.
Early Game
Getting Abomination as early as possible is vital for this comp in the early game if you are forcing. You can also make an early game transition into this comp and commit if you find Nunu early.
Mid Game
Balance your frontline with things like Brawlers for frontline or Spellweavers for better backline damage.
Finding an item holder for Vel'Koz can be tricky as there aren't many great early game units to hold items that you don't use in your final comp. Try to use a mid game carry like Zyra or Syndra in the meantime before finding Vel'Koz.