This comp revolves around Nocturne and uses the 6 Assassin trait to burst down enemy backlines. The comp power spikes in the mid game against vulnerable backlines, but can struggle in the late game without a Nocturne 3. Fiddlesticks is your secondary carry of the comp, even if you don't have an Assassin Emblem.
When to make
Go for this comp if you have good Nocturne items and a good start with Assassins.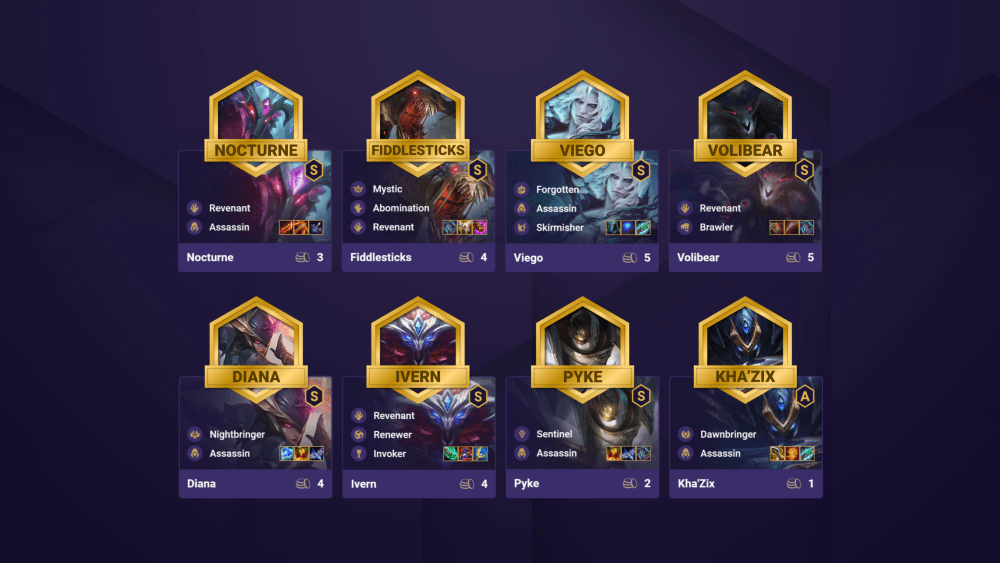 Level up to 4 early if you want to start a win streak. Level up to 5 to try and continue the streak.

If you're weak in the early game, you can opt to save gold and lose streak instead.
At Round 2, level up to 6 regardless of your start. Put together the strongest team you can.
At Round 1, level up to 7. Roll a bit to stabilize your comp if you are weak.

At this point you can choose to slow roll for a 3-star upgrade, or level up to 8 for a consistent power upgrade. You can also look for your 3 star units at level 8, but it will be expensive.
Early Game
In the early game, focus on picking up Assassin units and providing a strong frontline to stall for your Assassins.
Mid Game
Finding an early Diana makes a huge difference for this comp as it allows you to hit 4 Assassins. Having an Emblem also solves this issue.
When playing Assassins, you want to be constantly scouting enemies to see where their backlines are placed. This allows you to move Nocturne into a favorable position to wipe out enemy carries.




Fiddlesticks

Assassin Emblem
5%
10%



Covalent Spark
10
20

Jeweled Gauntlet
10
10%



Nocturne

Runaan's Tempest
20
40

Last Whisper
10
15%



Infinity Edge
10
15%



Ivern
Banshee's Claw
5%
10%
150


Zeke's Herald
10
150