This comp revolves around Aphelios as the main carry and surrounds him with strong utility and frontline units. Akshan can also act as a secondary carry with extra attack damage items. You can look to play this comp vertically by going for 6 Nightbringer, but in the late game, look to replace your weaker Nightbringer units with stronger units.
When to make
Go for this comp if you have a good start with Nightbringers and strong items for Aphelios. You can also transition into this comp with a strong start of Ranger units.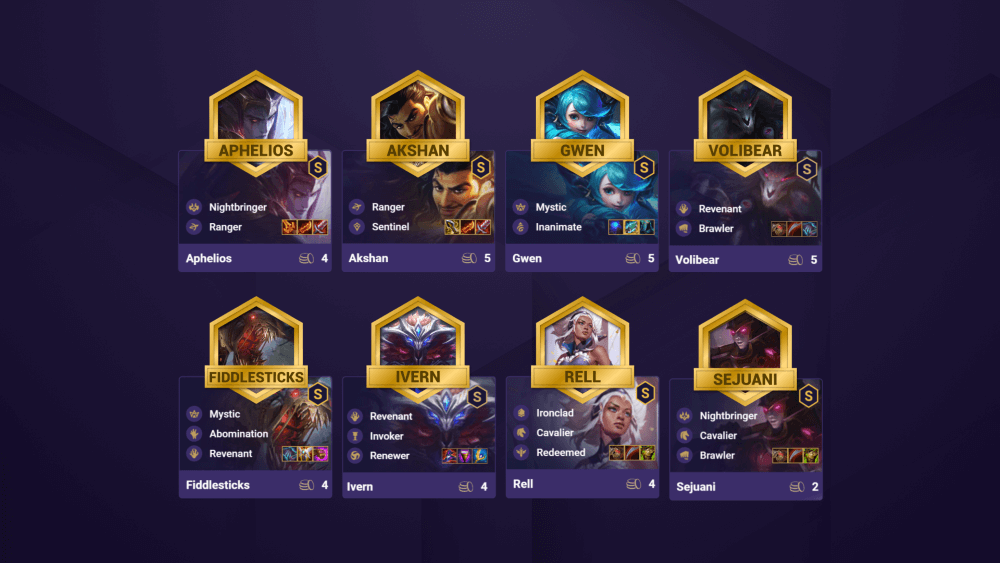 Level up to 4 early if you want to start a win streak. Level up to 5 to try and continue the streak.

If you're weak in the early game, you can opt to save gold and lose streak instead.
At Round 2, level up to 6 regardless of your start. Put together the strongest team you can.
At Round 1, level up to 7. Roll down to stabilize your comp if you are weak. Afterward save up to hit level 8 and complete your comp.
Early Game
Using the Nightbringers along with Ranger units make for a solid start, but you can also use the Redeemed units to surround Varus as your main Ranger carry early on.
Mid Game
At this point, you can continue building up your comp with more Rangers, Redeemed, or Nightbringer units. Ultimately, just try to balance your frontline and backline while keeping traits in mind.
Aphelios is in the corner to be in a safe position, but make sure to look out for things like Thresh hooks and Vel'Koz. You will want to either swap your backline to the other side, or switch Teemo and Aphelios in these situations.