This comp revolves around 3 starring Vayne as the main DPS carry. Buffing items are placed on Jinx in order to beef up the damage of your backline.
When to make
Go for this comp if you find a Chosen Dusk or Sharpshooter. A Chosen Vayne is ideal, but if you can hit 3 star Vayne without a Chosen Vayne, then you will be fine.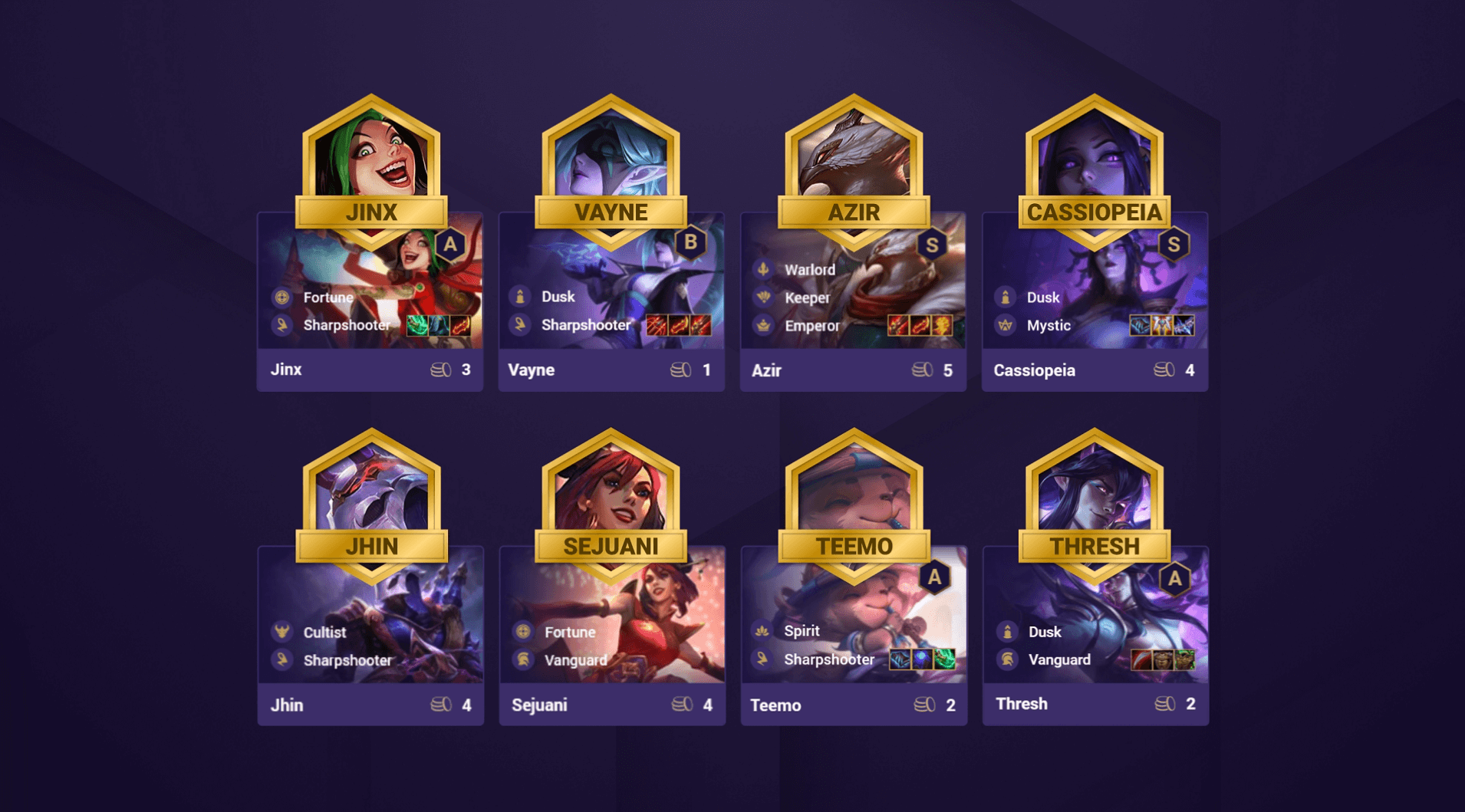 Level up to 4 early if you want to start a win streak. Level up to 5 to try and continue the streak.

If you're weak in the early game, you can opt to save gold and lose streak instead. Level up to 5 at Krugs if you don't think you can beat them.
At Round 2, level up to 6 regardless of your start. Put together the strongest team you can.
At Round 1, level up to 7. Roll down to stabilize your comp if you are weak. Afterward, save up to hit level 8 and complete your comp.
Early Game
In the early game, you mainly just want to have Sharpshooters and any frontline. Thresh and Vanguards transition nicely, but use whatever you find.
Mid Game
In the mid game, look for the mid game units like Jinx. You probably won't find any of your main 4 costs yet, so continue running your early game units and add in some transition units unless you high roll a Sejuani, Jhin, or Cassiopeia.
Chalice is good on Jinx as the tear component helps her cast her ability quickly. If you only have Zeke's though, you can look to place them on Jhin instead as the attack damage scales very well with his fourth shot. In most games, you will find Jinx first, so slamming them onto her is usually the situation you're in.