This comp combines Blue Buff and RFC to make Akali an extremly potent damage carry. Ninjas and Assassins will buff up her damage while units like Kayn and Yone provide great late game additions.
When to make
Go for this comp if you look like you can make Blue Buff and RFC on Akali. Also try to get a Chosen Akali or a Chosen Assassin at the least.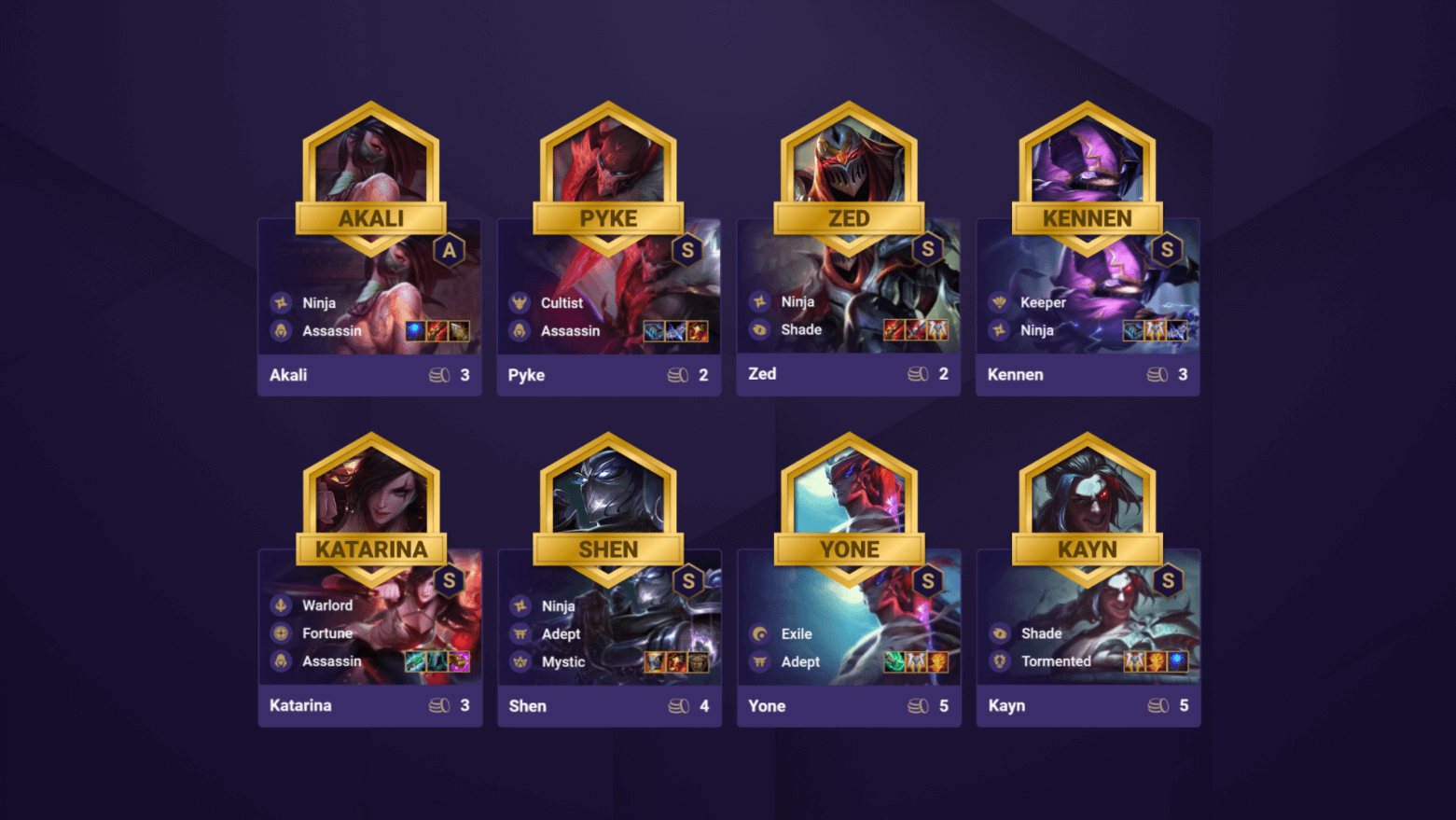 Level up to 4 early if you want to start a win streak.

Level up to 5 to try and continue the streak. If you're weak in the early game, you can opt to save gold and lose streak instead.
At Round 2, level up to 6 regardless of your start. Put together the strongest team you can.
At Round 1, level up to 7. Roll down to stabilize your comp if you are weak. You can opt to slow roll here for Akali 3 if you look like you are close. Otherwise, you should save up and level normally to look for Kayn and Yone.
Early Game
In the early game, you can use Cultists or any early game units. Twisted Fate can be an early item holder for Akali before you find her.
Mid Game
You will have to either run Kennen, Zed, or Akali but not more than one until you are able to find Shen to put in all 4 Ninjas. As such, hold off on fully transitioning until you hit Shen.
If you are lucky enough, you can look to try and go for 6 Assassins by either making two Youmuu's Ghostblades or by hitting level 9 and having 1 Youmuu's Ghostblade.
Akali
Blue Buff
20
20
Rapid Firecannon
+15%
+15%
Infinity Edge
20%
15