This comp utilizes Aphelios as the main carry and combines him with 4 Spirit in order to gain a lot of attack speed. While a Chosen is not required, hitting a Moonlight Chosen will significantly help as you will only need to 3 star two units instead of 3.
When to make
If you find lots of Moonlight units early or find an early Moonlight Chosen.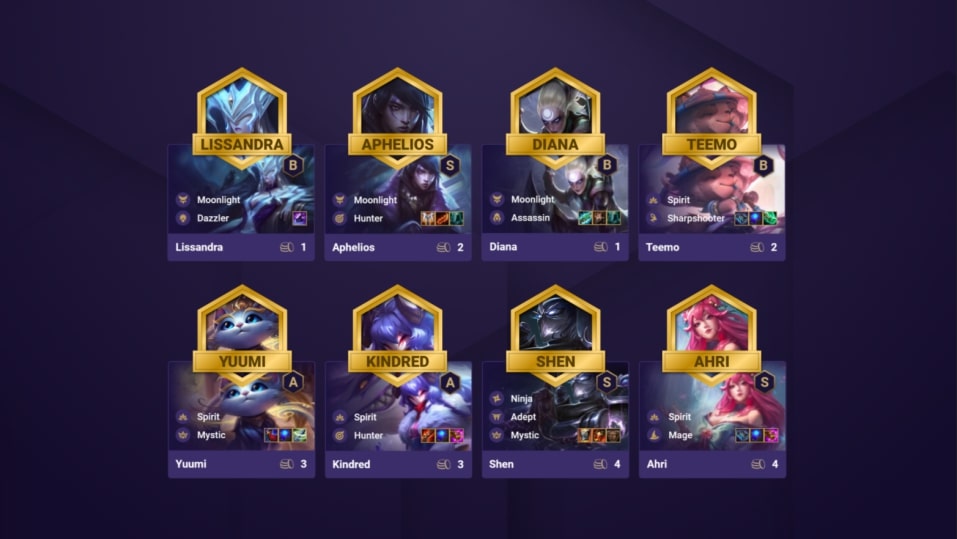 During Stage 2, do not level at all and save up all of your gold to slow roll at level 5.
Once you hit level 5, slow roll in order to find Lissandra and Diana 3 star. After hitting both of these, slow level up to 7 to continue slow rolling for Aphelios.
Once you are level 7, slow roll until you hit Aphelios 3 star. After this, level up to 8 to complete the comp.
Early Game
Simple enough, get all the Moonlight units you can and use whatever 4th unit you find.
Mid Game
At levels 5 and 6, you can add in more Spirit units for more attack speed.
You can opt to run Sylas as one of the 3 star units, but he is more difficult to find as he is a more contested unit in Brawler comps. Even still, if you can hit Aphelios and Sylas, he will help stall longer as he is a much more capable frontline unit.

If you happen to get extra tears, you can build Blue Buff on Yuumi or Kindred in order to gain more attack speed. Kindred will help a little with damage while Yuumi will get off more heals for the team.

If you can build an extra Guardian Angel, Ahri is a great holder as she can go more toward the frontline and cast her ability quicker. GA can also guarantee she casts her ability, giving your team a lot of attack speed.