This comp uses a tanky frontline of Brawlers with Ashe as the main carry. With a Chosen Elderwood and an Elderwood Spatula, you can hit 6 Brawler and 6 Elderwood at level 8.
When to make
Go for this comp if you find a lot of early Brawlers and have good items for Ashe. Prioritize Quicksilver and Giant Slayer for her while slapping extra defensive items on Nunu.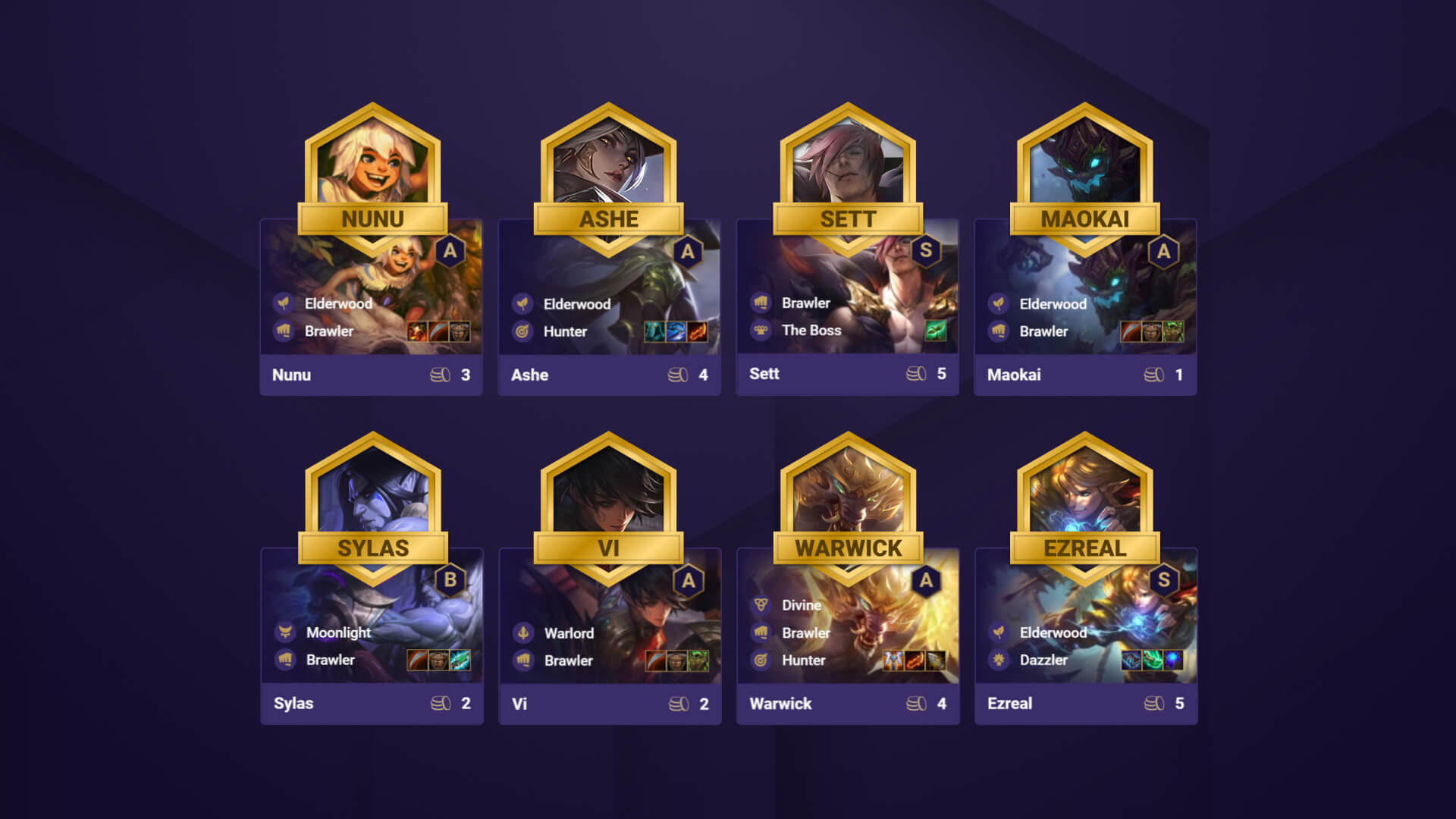 Level up to 4 early if you want to start a win streak. Level up to 5 to try and continue the streak.

If you're weak in the early game, you can opt to save gold and lose streak instead. Level up to 5 at Krugs if you don't think you can beat them.
At Round 2, level up to 6 regardless of your start. Put together the strongest team you can.
At Round 1, level up to 7. Roll down to stabilize your comp if you are weak. Afterward, save up to hit level 8 and complete your comp.
Early Game
In the early game, you mainly want to get 2 Brawlers up and running. Any backline will do, but Moonlight transitions well into a level 5 Sylas addition.
Mid Game
In the mid game, you can use Aphelios to transition into Hunter while maintaining Moonlight. If you find an early Ashe, you can drop a Brawler or hit level 7 to keep Moonlight and Hunter. Once you find Warwick and Ashe, you can drop Moonlight and build toward the level 8 comp.
With a Chosen Elderwood, you can hit 6 Elderwood at level 8 with Spatula or at level 9. You can also run a Chosen Brawler to hit 8 Brawler if you can't find a Chosen Elderwood unit.

Sett items are quite flexible as he can use a lot of items, but magic damage items will help him burst enemy teams. Sunfire Cape is also a great item to build on Brawlers, but you don't have to put it on Sett.