This comp slow rolls at level 5 to look for 3 Star Vanguards, Janna, and possibly Yuumi. The comp then full sends into defensive traits to overpower the opponent.
When to make
Go for this comp if you find lots of early copies of Wukong as he is the main carry of the comp. Also try to get early Bows as Wukong will want Rapid Firecannon.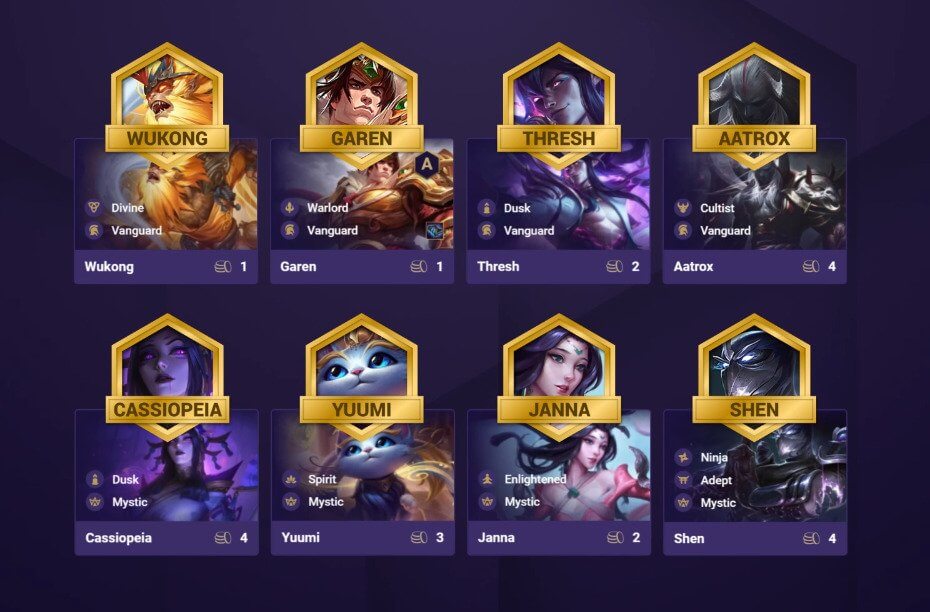 In Stage 2, don't spend any gold rerolling and buy the core units that you find. Save up as much money as possible to slow roll at level 5.
During Stage 3, you want to spend all of your gold above 50 slow rolling for Wukong, Garen, Thresh, and Janna. Once you find Wukong 3 star, you can look to slow level to 7.
At Round 2 you will be 8 gold from level 6. If you haven't found your 3 star Wukong yet, you can roll down below 50 to try and hit 3 star Wukong before leveling up to 6 and putting in another Mystic like Yuumi.

Hit level 7 at the latest after Raptors. At level 7, you can either continue slow rolling for units like Thresh and Janna or level up to 8 to add in Lee Sin or another unit you need.
If you find an early Wukong 3 star, you don't have to roll for other 3 stars and can instead rush levels to find high cost units like Lee Sin and Zilean.

You mainly want to find a Chosen Vanguard or a Chosen Mystic in order to run Lee Sin for Divine. This requires you to drop one of your Vanguard / Mystic units in order to fit in Lee Sin at 8. Alternatively you can also find a Chosen Divine Wukong to get Divine 2 without Lee Sin.