This comp looks to run a Chosen Cultist to hit 6 Cultist instead of 9 to fit together more synergies. Riven and Jhin are the two main carries of the comp dealing magic and attack damage respectively.
When to make
Go for this comp if you find an early Chosen
Cultist
or find good Jhin items early on.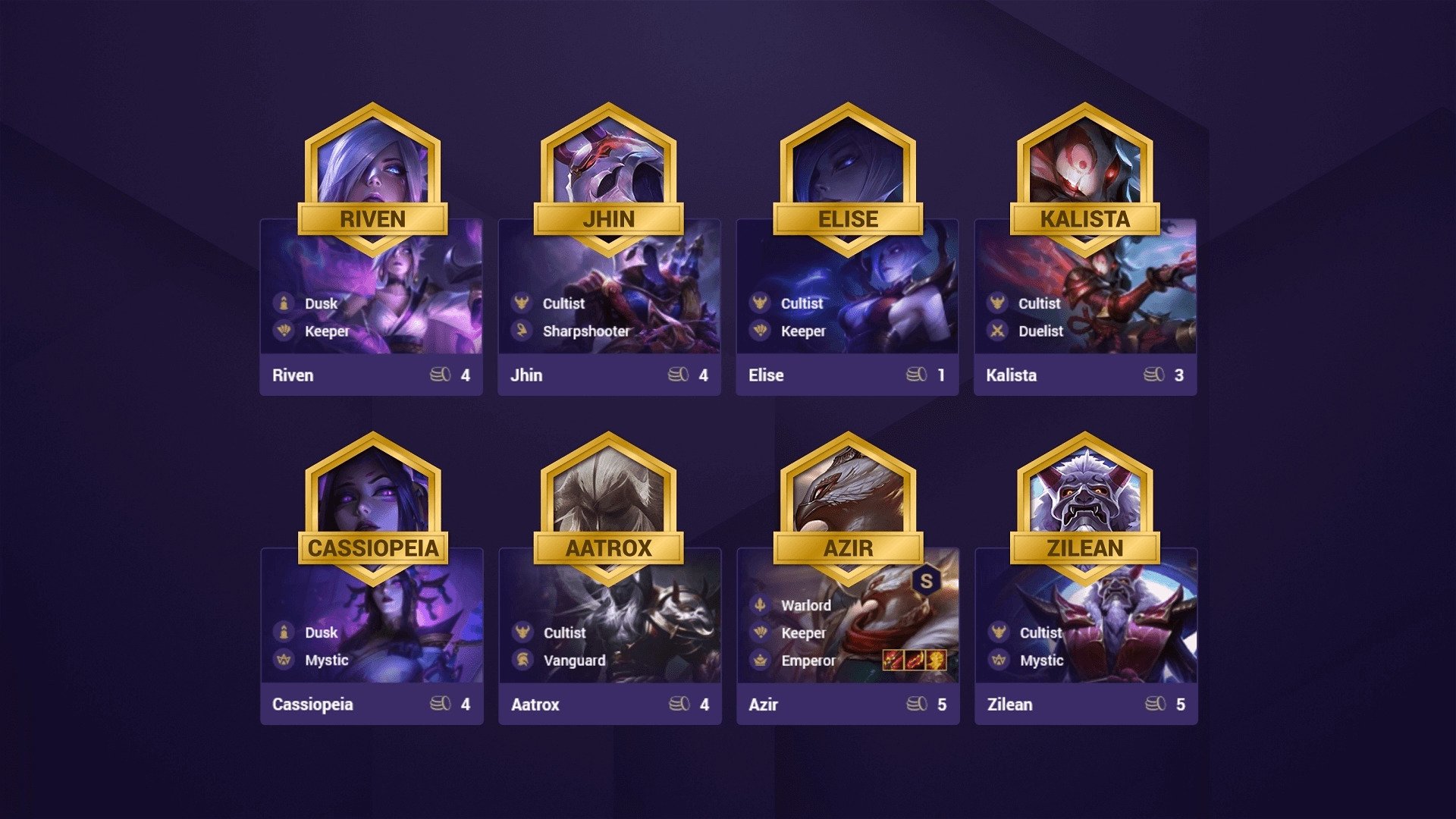 Level up to 4 early if you want to start a win streak. Level up to 5 to try and continue the streak.

If you're weak in the early game, you can opt to save gold and lose streak instead. Level up to 5 at Krugs if you don't think you can beat them.
At Round 2, level up to 6 regardless of your start. Put together the strongest team you can.
At Round 1, level up to 7. Roll down to stabilize your comp if you are weak. Afterward, save up to hit level 8 and complete your comp.
Early Game
You can run lots of units early on, but Kalista will be a good early carry alongside a Duelist in order to transition into Cultist easily.
Mid Game
By level 6, you should ideally have a Chosen Cultist by this point. This allows you to have 6 Cultist along with another synergy to run. Kennen will be the best mid game addition even without items, so look out for him.
You need a Chosen Cultist in order to complete the team at level 8. It can be any Cultist really, but you may want to sell an early Chosen Elise in hopes of hitting a higher cost unit like Aatrox or Jhin.

Kennen is a very potent mid game carry that synergizes well with Elise and Aatrox. You can use him as a solid transition unit for the comp.

You can opt to try and go for 9 Cultists if your Jhin and Riven items are sub par. 9 Cultists isn't as strong as a good well rounded team, but it can be an option if you happen to win streak into it.