This comp revolves around Tryndamere as the main carry of the comp. If your Tryndamere is not Chosen, you can sell him to place your items on Samira if you are able to 2 star her. You can also keep Tryndamere and opt to run other items on Samira as well.
When to make
This comp doesn't exactly require a Chosen, but you will definitely want to have Tryndamere as your Chosen if possible. The items won't be the hardest to build, so you can definitely try to force this comp as long as you can find Tryndamere.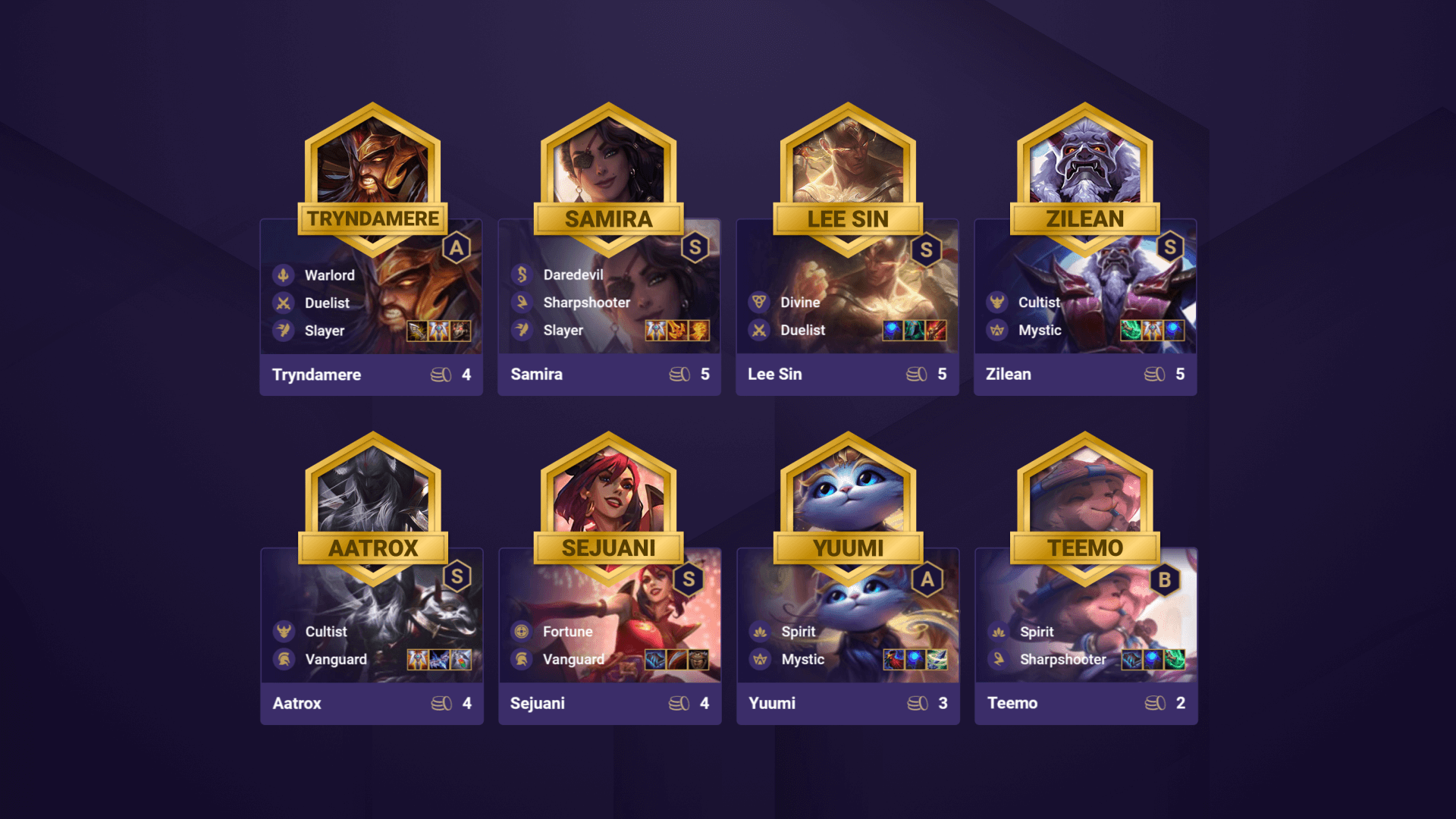 Level up to 4 early if you want to start a win streak. Level up to 5 to try and continue the streak

If you're weak in the early game, you can opt to save gold and lose streak instead.
At Round 2, level up to 6 regardless of your start. Put together the strongest team you can.
At Round 1, level up to 7. Roll down to stabilize your comp if you are weak. Afterward, save up to hit level 8 and complete your comp.
Early Game
You can use just about anything early game, but something like Cultists and Sharpshooters can make for a strong start.
Mid Game
You can begin adding in core units like Teemo and Yuumi while also upgrading your front line with stronger Vanguards or continue adding in Cultists.
If you can't find a Chosen Tryndamere Slayer, you will need to replace one of your units for a Slayer like Pyke. You can replace Zilean and drop Mystic, which is probably the best replacement.




Samira

Last Whisper
15%
20%



Guardian Angel
15
25



Infinity Edge
20%
15



Tryndamere

Last Whisper
15%
20%



Guardian Angel
15
25



Infinity Edge
20%
15